Christians join in High Street procession
Friday, 2nd April 2010.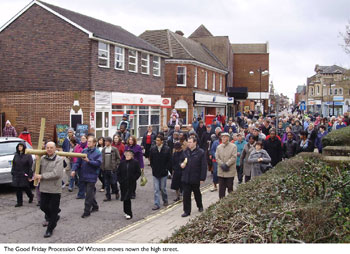 Christians from a wide range of churches across Haverhill joined together this morning for the traditional Good Friday Procession Of Witness in the town centre.
After assembling at the Old Independent Church in Hamlet Road at 10.30am they followed a large cross which was carried down the high street to the market square.
A service took place there to mark the most solemn day in the Christian calendar, commemorating the crucifixion and death of Jesus Christ.
Worshippers then moved into nearby St Mary's Church for refreshments.

Comment on this story
[board listing] [login] [register]
You must be logged in to post messages. (login now)