Christians Offer Help To Clear Debts
By Jo Deeks on Sunday, 13th November 2005.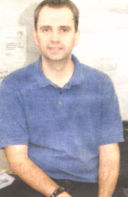 People with money worries can visit a new debt-counselling centre in Haverhill.
The new centre has opened as a partnership between national charity 'Christians Against Poverty' (CAP) and the River Of Life Community Church in Haverhill.
The latest figures from the Department of Trade and Industry show that one in four UK households are in debt and it is expected that this new service will fulfil a need in Haverhill and the surrounding area.
Henry Wilson, the centre's manager said: "It's a bit of a change from my usual work as a photographer, but as a Christian I wanted to do something that is of benefit to the community and that puts my Christian beliefs into action by serving others."
Mr Wilson will be able to offer practical solutions to anyone who is suffering as a result of overwhelming debts and financial difficulties.
One of CAP's clients, who asked not to be named, said: "To be in debt is so demeaning it affects your marriage, your children and your outlook on life. The knock at the door always makes you jump. The moment we came to CAP, all the stress, which is bought on by debts, was lifted, CAP helped us to budget and live within it, which was invaluable. My husband is 60 and I am 55 and to know that we are free of debt is so wonderful."
CAP works with families and negotiates with creditors to work out a realistic budget which prioritises food and essential bills to ensure clients will be debt free within four years.
For further information on CAP's free service phone Mr Wilson on 01440 712950

Comment on this story
[board listing] [login] [register]
You must be logged in to post messages. (login now)