Church celebrates Derek's 50 years as a preacher
Tuesday, 31st May 2011.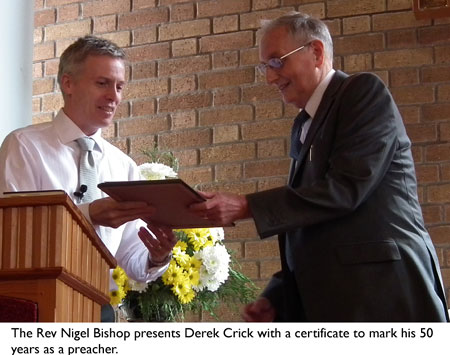 Sunday was a very special day in the life of Haverhill Methodist Church as one of its members celebrated his 50th anniversary of becoming an accredited Methodist local preacher (lay preacher).
Derek began preaching as a young man in the 1950s and, after passing exams, became an officially accredited preacher in the Methodist Church in 1961.
Since then Derek has preached on hundreds of occasions and is still very active in this way today.
Apart from preaching in the Methodist Church, Derek's ministry is much sought-after and appreciated by churches of other denominations in Haverhill and the surrounding area.
Worshippers celebrated his achievement on Sunday morning at the Methodist Church in Camps Road, where the minister, the Rev Nigel Bishop, presented Derek with a special certificate.
Also, in recognition of his 50 years of service, a letter of thanks and congratulations was read out from the Rev Graham Thompson, the chairman of the East Anglia District of the Methodist Church.
Mr Bishop said, during the service, how highly Derek's ministry was regarded and noted the great affection that the congregation had for him.
Derek has been supported through all these 50 years of preaching by his wife, Reta, who often accompanies him on preaching appointments. After the morning service the celebrations continued with a gathering of family and friends for a special meal.

Comment on this story
[board listing] [login] [register]
You must be logged in to post messages. (login now)