Close encounters in all divisions on golf course
Tuesday, 6th September 2011.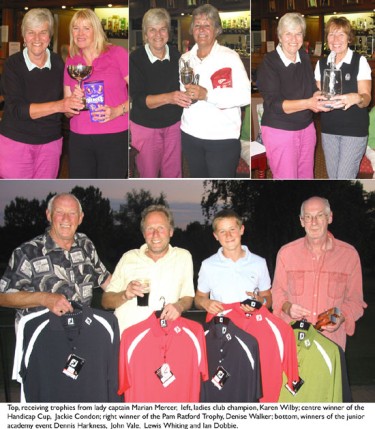 The Men's Medal was played at Haverhill Golf Club on Sunday, August 28. The scoring was extremely close across all three divisions, and had to be decided on countback.
The overall winner was Gavin Hatton with a nett score of 67. The full results were: Division One, 1 Paul Bartlett 77-10-67 on countback; 2 Jack Bligh 77-10-67; 3 Wayne Penman 80-12-68.
Division Two, 1 Gavin Hatton 82-15-67 on countback; 2 club captain Keith Brown 87-20-67; 3 Allen O'Donoghue 86-18-68.
Division Three, 1 Mark Hilton 91-24-67; 2 Nigel Farenden 91-21-70; 3 John Fox 101-28-73.
Haverhill Men played in a friendly match away against The Suffolk on Saturday, August 27. Despite losing the first four matches, Haverhill managed to win by four holes due to sterling work in the last two matches - Mark Carpenter and Jack Bligh won 5 up and Mark Stanton and Richard Parker (jnr) won 10 up. Both teams are looking forward to the return match at Haverhill on October 1.
On Bank Holiday Monday, 63 Haverhill members took part in the Keith Brown Classic, a stableford event open to all sections of the club.
Winning with a score of 41pts was Paul Bartlett, following on from his Division One win in the medal the previous day, and his handicap was reduced by a further shot to eight.
In second place was Joe Davis with 41pts, and his handicap has been reduced by a shot to 16 and in third place was Aaron Tokley with 40pts.
The best score returned for the ladies was lady captain Marian Mercer with 35pts and the best junior score was James Higham with 37pts.
The junior foursomes competition was played at Haverhill on Tuesday, August 30. Ollie Fish and Ollie Stevenson claimed the victory with an excellent 92-24-68. In second place was the pairing of Stephen Boyles and James Higham with 83-14-69 and in third place Hayden Durrant and Josh Hulyer with 97-25-72.
Paul Wilby, Haverhill's head professional, organised an event to raise funds for the junior academy on Thursday, September 1. In all, 21 teams took part including visitors from other golf clubs as well as Haverhill members.
The event format was four ball better ball, stableford, and the overall winners with 89pts were Dennis Harkness, John Vale, Lewis Whiting and Ian Dobbie.
In second place with 81 points on countback were Pat Luscombe, Phil Sayer, Trevor Smith and Bill Dunn and in third place Barry & Julie Blemings and David & Anna Fairs also with 81pts.
Winning men's longest drive was Duncan Galloway and for the ladies, Karen Wilby. Nearest the pin on the second was Stephen Boyles, on the eighth was Dave Southby, on 12th was Ray Foreman and on 16th was Bill Wendon. Paul Wilby made the prize presentation and thanked everyone for taking part and supporting the junior academy.
Haverhill Juniors played in a friendly match against Gog Magog on Friday, September 2. Both teams put in a good performance with most matches on an equal playing level.
Four games only had to give one shot to their playing opposition. Haverhill junior Edward Halpin stepped in at the last minute to make up the team of 12. The match format was greensomes with a low and high handicapper being paired together.
The overall result was a commanding 6-0 victory for Haverhill. The Haverhill team were: James Iron & Liam Merritt, Louis Martin & Lewis Whiting, Joshua Hulyer & Michael Perritt, Ollie Stevenson & Mitchel Davis, Edward Halpin & James Higham, Ollie Fish & Steven Boyles.
On Saturday, September 3, Haverhill men played another friendly match, this time at home against Towerlands, where Haverhill made the most of the home advantage to claim the match 5-1. A return match at Towerlands will be arranged in the near future.
The ladies club championship and Pam Ratford Trophy were played on Sunday, September 4. The championship was divided into scratch and handicap competitions.
Winning the Ladies Club Championship Trophy (scratch competition) with 86-93=179 was Karen Wilby and as a result she had her handicap reduced by two shots to 14.
In second place was Jackie Condon with 93-90=183 and in third place Mary Sail with 91-95-186.
The Handicap Trophy was won by Jackie Condon with a nett score of 147 on countback, from second place Karen Wilby with a nett score of 147 and in third place Catie Heathfield with a nett score of 149.
Winning the Pam Ratford Trophy was Denise Walker with a nett score of 78, in second place Ann Thompson with a nett score of 79 and in third place Pauline Calmet with a nett score of 80.

Comment on this story
[board listing] [login] [register]
You must be logged in to post messages. (login now)