Close encounters of a reptilian kind
Tuesday, 20th April 2010.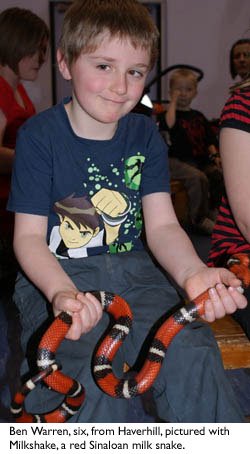 Youngsters got the chance to hold snakes, lizards, and even a tarantula at a reptile experience afternoon at Haverhill
Leisure Centre
.
The popular event run by Cambridge company The Reptile House took place on Thursday, April 15, and started with a talk about the reptiles including where they live, what they like to eat and how they hunt.
Among the reptiles the youngsters could hold were a red Sinaloan milk snake called Milkshake, a bearded dragon, a tortoise, a royal python called Charlie, a blue-tongued skink and a veiled chameleon.
The children were also able to look at an emperor scorpion, a giant African millipede and they were treated to a special appearance by two lively meerkats called Itchy and Scratchy.
The event ended with a chance for all the children to take part in holding an albino Burmese python called Slytherin.
Ben Warren, six, who took part in the event, said: "I really liked the big python that was brought out at the end, but my favourites were the meerkats. They were really funny."
The Reptile House will be back at Haverhill
Leisure Centre
during the half term holidays on Wednesday, June 2, from 2pm to 3.30pm.

Comment on this story
[board listing] [login] [register]
You must be logged in to post messages. (login now)