Colourful African choir in town for two concerts
Tuesday, 1st February 2011.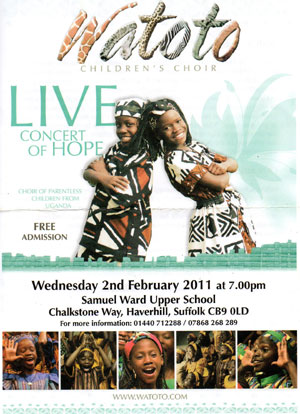 A choir of Ugandan children is in Haverhill at the moment, to give a concert in the Old Independent Church this evening and to work with Samuel Ward college students tomorrow and join them for a concert tomorrow evening.
The Watoto Children's Choir has toured internationall since 1994, presnting its vision and mission through its music and dance, which is an energetic fusion of contemporary gospel and traditional African rhythm.
The children are among 1.8 boys and girls in Uganda who had the tragic experience of losing one or both of their parents to AIDS or war.
Theor performance is called Concert Of Hope, and is a lively and colourful demonstration of the life-changing love of God experienced by the children of Watoto.
The choir is being hosted by the River Of Life Community Church in Haverhill.
The children will be working with Samuel Ward students in school tomorrow, and then some of the Haverhill youngsters will be joining them in a concert which starts at 7pm at the college and entry is free.

Comment on this story
[board listing] [login] [register]
You must be logged in to post messages. (login now)