Consolation friendly win for lady golfers
Tuesday, 6th July 2010.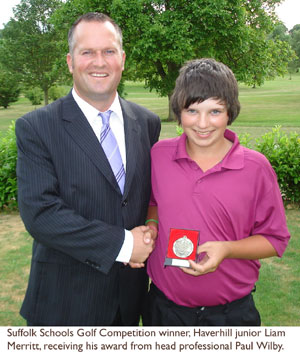 Haverhill Golf Club ladies played in two county matches last week. The first was played away at Hintlesham on Monday, June 28, where, after a close match, Haverhill lost 3-2 to the hosts.
Sadly it was a repeat result for their final Weston fixture of 2010, away to Rookery Park, where Haverhill lost 3-2. However the ladies' spirits were lifted after a friendly match against Gog Magog on Friday, July 2, where they won 3-1.
Haverhill played host to the Suffolk County Schools Golf Championship on Thursday, July 1. In total, 41 juniors took part and the day was a big success.
Winning the Scratch Competition was Jack Nicholson with 75 on countback from second place Drew Watson also with 75.
The Nett Competition results were: 1 Sam Last 83-22-61; 2 Sam Nicholson 80-17-63 and 3 Jack Edwards 89-25-64.
The Girls Nett Competition was won by Jessica Dixon 97-22-75. The Stableford (scratch – 18 category) was won by Haverhill's Liam Merritt with 37pts on countback from Marcus Kent also with 37pts, and in third place was Harry Turner with 35pts.
The 18-28 category was won by Aran O'Doherty with 39pts, in second place Michael Gee with 36pts on countback from third place Caylum McFie also with 36pts.
The 29-36 category was played over ten holes, and was won by Robert Smailes, in second place Ben Aves and in third place Guy Spratton.
The winning School Team was Thurston Upper with 87pts and runner-up, King Edward Upper School with 77pts. Photos of all the winners can be found on the Secretary's page on the Golf Club website www.club-noticeboard.co.uk/haverhill
It was a busy Saturday at Haverhill on July 3, starting with the Ladies Medal. Theresa Spittle just had the edge with a nett 69 to secure the win. In second place was Sue Carr on countback with a nett 70, from third place Gerrie Wheatley also with a nett 70.
Both Theresa and Gerrie have subsequently had their handicaps reduced, so congratulations to them both.
Following the ladies medal, Haverhill's Curry Cup Team met their next opponents - newcomers South Essex. It was another successful day for the defending champions, with a very comfortable 16½-1½ victory.
The morning match results were (Haverhill team first): Andy Fish & Bob Spittle won 2&1 against D Woods & C Belcher, Andy Craig & Eamonn Bareham finished AS against T Wright & M Loades, Darragh Whelan & Dave Perrett won 2 up against C Clayton & D Ottman, Richard Boyles & Lewis Whiting won 2 up against R Welson &T Drake, Kim Ward & Ted Fairhead won 7&6 against P Pryke & D McCarthy, Team Captain Joe Davis & Graham Ashcroft won 2 up against G Turner & P Hopper.
The afternoon singles match results were: (Haverhill team first): Dave Perrett won 7&5 against D Woods, Bob Spittle won 5&3 against C Belcher, Andy Fish won 3&2 against T Wright, Darragh Whelan won 2&1 against M Loades, Andy Craig finish A/S with C Clayton, Eamonn Bareham wond 3&2 against D Ottman, Richard Boyles finished A/S with R Welson, Kim Ward won 4&3 against T Drake, Ted Fairhead won 2&1 against P Pryke, Lewis Whiting won 2 up against D McCarthy, Joe Davis wone 2&1 against G Turner, Graham Ashcroft won 2 up against P Hopper.
Haverhill's next Curry Cup fixture is away to Benton Hall on Saturday, July 31.
The men's July medal was played on Sunday, July 4, however it was a junior who took the honours as Charlie Sigler scored a very impressive nett 61, and as a result has had his handicap reduced by two shots.
The full results were: Division One, 1 Richard Boyles 77-12-65; 2 Paul Hinchliffe 73-7-66; 3 Chris Vince 72-5-67 (lowest gross).
Division Two, 1 Charlie Sigler 75-14-61; 2 Richard Mansfield 84-16-68; 3 Lewis Whiting 84-15-69.
Division Three, 1 Mick Cornelius 88-21-67, 2 John Fox 97-28-69; 3 Stephen Boyles 92-21-71.

Comment on this story
[board listing] [login] [register]
You must be logged in to post messages. (login now)