Councillor airs fears over county's big sell-off
Monday, 27th September 2010.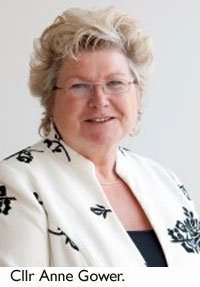 A Haverhill councillor has admitted to being 'very uncomfortable' about the decision by her colleagues on Suffolk County Council to look into selling off all its activities.
Cllr Anne Gower said her fellow Conservative county councillors were 'much more optimistic than me' about the idea.
Last week the council became the first local authority in the country to take the plunge and consider offloading everything it does to private firms or volunteers.
Unions have already warned it could mean the loss of thousands of jobs. The county council is Suffolk's largest employer and currently has a budget of £1.1billion.
Outsourcing everything could reduce this by 30 per cent, it is claimed, and the council leader Cllr Jeremy Pembroke said the decision had been taken in the light of the financial pressure likely to be exerted by the Coalition Government's spending review, which is expected to cut swathes of local authority funding.
Among services involved are not only libraries, highways, parks and schools, but youth clubs, care homes, children's centres, registrars, county records and child protection.
But Cllr Gower told Haverhill-UK this morning she had serious concerns about the sustainability and accountability of the providers who would be taking over the services.
Highways services, it has been suggested, could be taken on by May Gurney.
"May Gurney are a national company," she said. "How are they going to be accountable to me if one of my residents comes to me with an issue?
"People in Haverhill feel disconnected from Ipswich now. How much more will they feel disconnected from a national company?"
She said the county's new strategic direction document was 'not even a bare skeleton' to show how the system would work.
"I am very concerned we could be throwing the baby out with the bathwater," said Cllr Gower.
"And sustainability is another issue. There are some extremely excellent volunteering people around but it is not a bottomless pit and they will need funding."
She said Haverhill was already sustaining local services by using a lot of volunteers and was an example of the 'Big Society'.
"There is not a case for re-inventing the wheel here - the wheel is running in this town already. What we don't want is for the wheels to fall off."
She said services which have already been privatised by St Edmundsbury Borough Council, such as sport and leisure to Abbeycroft Leisure and housing to Havebury Housing Partnership, had retained some accountability because they were set up by the council and came from the ethos of a local authority background.
But the latest moves were purely financially driven and she found it difficult to square that with the required level of accountability.

Comment on this story
[board listing] [login] [register]
You must be logged in to post messages. (login now)