County award for golf club's junior organiser
Friday, 11th November 2011.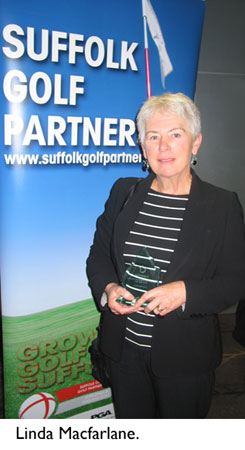 Linda Macfarlane, chair of Haverhill Golf Club's junior committee, was awarded Volunteer of the Year for Club Development 2011 at a presentation evening organised by the Suffolk Golf Partnership.
The Conference and Awards Ceremony was held on Tuesday, November 8, at the David Lloyd Leisure Club in Ipswich. Also attending from Haverhill Golf Club were club president Chris Briggs, PGA head professional Paul Wilby and club manager Karen Wilby.
Karen Wilby nominated Linda for the award because of her involvement in recruiting new junior members, as well as her work in attaining the GolfMark High Achiever Award for Haverhill Golf Club.
Chris Briggs said: "Linda thoroughly deserves recognition for her enormous contribution, especially during the past three years, which has undoubtedly raised number of junior members and the profile of our golf club."
Linda has been on the junior committee at Haverhill since she was ladies' vice-captain in April 2007 and she went on to chair the junior committee from January 2008.
In April 2009 Linda also took on the role of junior organiser on behalf of Haverhill Golf Club for county events. As a result, the fixture list has now been expanded for the junior section to include eight interclub friendly matches, matches against the ladies and senior sections of the golf club as well as competing for 14 junior cups and shields.
From 2009 onwards juniors have been encouraged to take part in the East Region Pro-Am at Haverhill and some are also competing in the recently created Suffolk Junior Order of Merit.
The work Linda has put in has been rewarded in a number of ways. In 2011 the number of junior girl members increased to 13, more than double the target which had been set.
Achieving the Golf Mark Award was a spring board for Haverhill's Junior Academy and seven of the top-performing junior members improved their handicaps by an average of 22 shots each.
Five of the Haverhill Juniors have recently been selected to represent Suffolk, playing for the U14, U16s and U18s County Teams. Haverhill Juniors notably won the Junior Team Handicap Cup in 2010 and they reached the semi-finals in 2011.

Comment on this story
[board listing] [login] [register]
You must be logged in to post messages. (login now)