County council's top man calls it a day
Friday, 1st April 2011.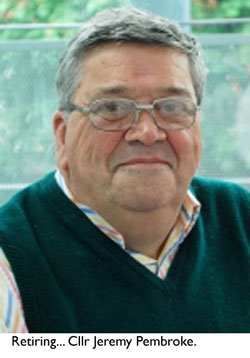 The man at the centre of Suffolk County Council's move to cuts costs by divesting services is to retire.
Cllr Jeremy Pembroke has announced he is giving up being leader of the council, a role that he holds by virtue of being leader of the Conservative group which is in power in Ipswich.
He has overseen the development of the New Strategic Direction over the last year, but during his six-year tenure was also responsible for the councl appointing its controversial chief executive Andrea Hill at a salary of over £200,000 a year.
Haverhill's MP Matthew Hancock paid tribute to Cllr Pembroke's work.
"In my first year as a Suffolk MP it has been a pleasure and a privilege to work so closely with Jeremy," he said.
"Jeremy has done fantastic work for Suffolk. Under his leadership, Suffolk has seen the lowest council tax increases on record and has become one of the most cost-effective councils in England.
"I know he is also rightly proud of the New Strategic Direction policy, which will allow Suffolk to deal with difficult circumstances effectively.
"I am glad he will remain on the council until the next election, so that we continue to benefit from his expertise and experience. I thank him for all he has done on behalf of the people of Suffolk."
Cllr Pembroke has served on Suffolk County Council since May 2001 – for the last six years as leader. He will continue his role as local member for the Cosford division.
He took the decision to retire now because he does not plan to stand for re-election to the county council in 2013 – and believes that a new leader should be given the opportunity to make their mark ahead of those elections.
As leader, Cllr Pembroke has also overseen the council as an 'excellent' four-star rated organisation and one of the most cost-efficient county councils - saving £70m since 2005.
Cllr Pembroke said: "It has been a great honour to serve as the leader of Suffolk County Council. As I have said many times, I am passionate about Suffolk and the people who live here. I have enjoyed being leader immensely.
"I believe we have made great strides in modernising the authority, making efficiencies and creating an organisation that, even in these difficult financial times, will deliver.
"I feel this is the right time for me to step down to give the next leader enough time to prepare for the elections in 2013. I know that I will be leaving the authority in good hands. I have the utmost confidence in my cabinet and the officers who work so hard for Suffolk County Council.
"I would like to thank the people of Suffolk for their support over the last 10 years."
Suffolk County Council's constitution means that Cllr Jane Storey, the council's deputy leader, will take on the role of leader until the council's annual general meeting on May 26.
Cllr Storey said: "I am very sorry that Jeremy is retiring. He is one of the most honourable people I have ever known. He is passionate about Suffolk and that has been obvious to all who have worked with him. His leadership is one of great innovation, honesty and openness. He will be much missed."
Andrea Hill said: "It has been a pleasure to work for, and with, Jeremy. His leadership, passion and commitment have led to huge improvements at Suffolk County Council. More than that - his integrity and honesty have made the council a better place.
"Jeremy will be a huge loss as Leader. However, I am sure he will continue to contribute to Suffolk for many years to come."

Comment on this story
[board listing] [login] [register]
You must be logged in to post messages. (login now)