County heads impressed by academy students
Wednesday, 9th July 2014.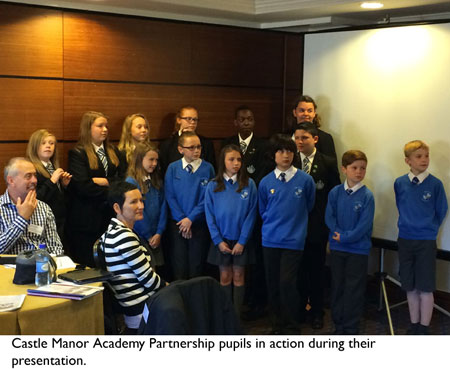 Pupils and students from the Castle Partnership Academy Trust wowed head teachers from across Suffolk at their annual conference last week.
The students delivered a workshop, which they had prepared themselves, as part of the Suffolk Association of Secondary Heads annual conference at the Cambridge Belfry.
The workshop set out to showcase the excellent partnership work that happens between the schools within the trust.
The young people initially prepared a presentation last autumn, which they delivered to a small group of primary head teachers.
When the opportunity arose for the Castle Partnership to deliver a session as part of the conference, thoughts returned to the highly successful presentation and how that could be delivered again.
A selection of pupils from Place Farm Primary Academy and Castle Manor Academy reconvened, along with a selection if new faces to revisit the presentation, improve their scripts and develop an engaging Q&A.
The presentation was delivered by 13 students and covered their experience of partnership work. They spoke passionately about the opportunities they have to share specialist resources, the regular lessons they have with specialist teachers and the positive impact of working directly with students from such a wide age range.
Place Farm Primary Academy pupil Eleanor Bunch (11) spoke during the presentation about how the partnership had helped her to feel more confident.
She said: "I've chosen to go to Castle Manor Academy. At first I was scared about the change to such a big campus, with so many students. My weekly visits from teachers to take lessons at Place Farm and visits to Castle Manor mean that I'm not scared anymore, but excited."
The partnership between the schools brings a host of benefits for young people. These include weekly lessons delivered at Place Farm by secondary specialists, such as music and PE.
Pupils also spend time using resources at Castle Manor, including their media suite, drama studio and science laboratories.
It also means that pupils experience a balanced, connected curriculum which bridges the traditional gap when moving from year six to year seven.
This year pupils have been learning Latin with their teacher, a scheme that will continue into the secondary phase.
Student Emily-Rose Wilson (13) is now in year eight at Castle Manor, having previously been at Place Farm.
During the Q&A session she told of the positive impact on her family, saying: "I have younger brothers and sisters. My mum is much happier knowing that all of us will go through the same system and get the same excellent experience."
The students were the highlight of the conference for many head teachers who reflected on how confident, eloquent and passionate they all were.
Madeleine Vigar, executive principal of the trust, was also full of praise. She said: "The pupils and students gave an excellent presentation.
"They spoke passionately about their experience within our partnership and led fantastic Q&A sessions liked seasoned professionals.
"Listening to the presentations gave us all an opportunity to feel proud and reflect on the excellent work completed by our pupils, students and staff within the Castle Partnership Academy Trust."
The Castle Partnership oversees Castle Manor, Place Farm and Burton End, which has recently federated with the trust. The 13 pupils and students involved in the presentation received a Principal's Commendation in recognition of their excellent work at an award ceremony hosted at Castle Manor Academy this week.

Comment on this story
[board listing] [login] [register]
You must be logged in to post messages. (login now)