Couple become top lawnmower dealership
Monday, 21st March 2011.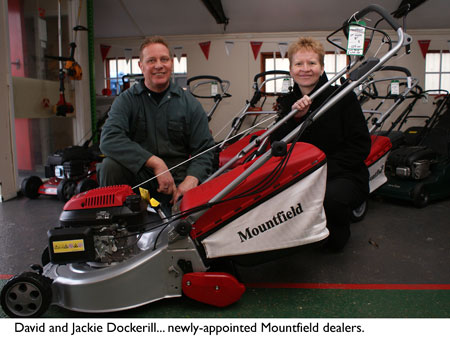 A Haverhill couple have celebrated their first anniversary as owners of a lawnmower and garden equipment repair company by becoming the first dealership in the Cambridge area for the number one garden machinery company in the UK.
David and Jackie Dockerill, of White Caville, in Haverhill, bought Gog Magog Mower Services at Copley Hill Business Park, just off the A1307 near Abington, last year.
They have become the first dealership in the Cambridge area for Mountfield, which has been manufacturing lawnmowers and garden equipment for 50 years, passing strict sales and service requirements to qualify.
Anne Jones, marketing co-ordinator of GGP UK which distributes Mountfield lawnmowers and garden equipment, said: "We do not appoint companies as dealerships unless they can offer excellent sales, showroom and service back-up which supports our brand and our strict requirements, which have made Mountfield the number one garden machinery company in the UK.
"We are delighted to appoint David and Jackie of Gog Magog Mower Services as our dealers for Cambridge."
David, who has more than 20 years experience in the mower repair trade, can service all garden equipment including petrol and electric lawnmowers, strimmers, chainsaws and hedge cutters both domestic and commercial. A free pick-up and drop-off service is also available in the Haverhill area.
David said: "It's been a very good first year for us, particularly in the current climate and becoming a Mountfield dealership has been the icing on the cake really.
"People seem to like the personal service that we can offer here. We are small and friendly but have a lot of experience in servicing garden machinery and we are honest with customers on whether we can repair a machine or whether it is time to think about a replacement.
"Mountfield gives us the ability to sell mowers of exceptional quality to the local community. They are one of the leading manufacturer of lawnmowers in the UK and cater for different budgets from the household mower to mowers for landscape gardeners. Plus any servicing that needs to be undertaken through the warranties can be done here locally rather than being sent away.
"As spring approaches, people should be thinking about getting out their lawnmowers and strimmers from the shed or garage and checking them over to see if they still work before they do the first grass cut of the year. We specialise in getting equipment back to people within two weeks."
If you want to keep your mower in tip-top shape this summer David offers the following advice:
1 make sure it is serviced annually - electric machines need to be safety tested;
2 use clean and fresh petrol;
3 check oil levels on machine prior to using;
4 clean down machine after use;
5 check lawn for sharp objects and debris before mowing.
For more information on how to keep your lawnmower in tip-top condition visit Gog Magog Mower Services website, www.gogmagogmowers.co.uk

Comment on this story
[board listing] [login] [register]
You must be logged in to post messages. (login now)