Couple's new venture aims to be a cut above the rest
Tuesday, 23rd March 2010.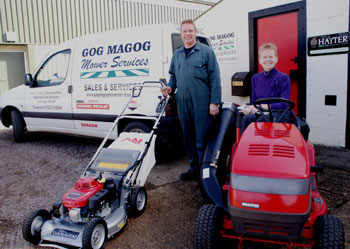 A Haverhill couple are the new owners of a lawnmower and garden equipment repair company which can already count the Botanic Gardens in Cambridge and Newmarket Racecourse among their clients.
David and Jackie Dockerill, of White Caville, in Haverhill, have bought Gog Magog Mower Services at Copley Hill Business Park, just off the A1307 near Abington.
The couple, who have been married for 15 years, also have Babraham Institute, and Clare College in Cambridge on their client list.
Jackie's accountancy business Running Total Bookkeeping has also moved to the premises at Copley Hill Business Park and she will provide the financial arm of their new business.
David, who has more than 20 years experience in the mower repair trade, can service all garden equipment including petrol and electric lawnmowers, strimmers, chainsaws and hedge cutters both domestic and commercial.
A free pick-up and drop-off service is also available in the Haverhill area. The couple will also be selling new and secondhand machinery.
David said: "Spring is when people should be thinking about getting out their lawnmowers and strimmers from the shed or garage and checking them over to see if they still work before they do the first grass cut of the year.
"We are the only garden equipment repair firm in this area and we specialise in getting your equipment back to you within two weeks. We investigate the problem, source the parts to fix it and then return the equipment in full working order."
"I started repairing lawnmowers because it gave me a sense of achievement. To get a piece of equipment running again, particularly when it involves a bit of detective work is very satisfying."
Jackie said: "This is the first time that we have worked together in 15 years of marriage. I decided to move my accountancy business to the same premises because in that way I can continue to provide for my clients and take care of the financial side of Gog Magog Mower Services."
If you want to keep your mower in tip top shape this summer David offers the following advice:
1 Make sure it is serviced annually; electric machines need to be safety tested.
2 Use clean and fresh petrol.
3 Check oil levels on machine prior to using.
4 Clean down machine after use.
5 Check lawn for sharp object and debris before mowing.
For more information on how to keep your lawnmower in tip top condition visit Gog Magog Mower Services visit www.gogmagogmowers.co.uk
* Our picture shows David and Jackie Dockerill getting stuck into their new business.

Comment on this story
[board listing] [login] [register]
You must be logged in to post messages. (login now)