Course provers a tough test for seniors
Wednesday, 1st August 2012.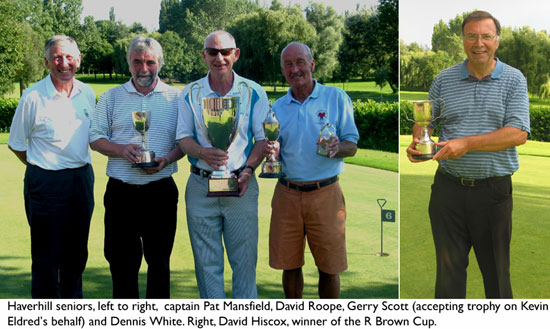 Haverhill Golf Club's seniors championship was held on Tuesday, July 24. In all 61 were competing for the Chris Briggs Scratch Trophy, The Paul Wallace Handicap Trophy and the Mick Turner Veterans Cup (for 70 and over).
The course provided a tough test and was set up with narrow fairways and fast greens. That, coupled with the sweltering conditions, yielded just one nett par round from the entire field.
Winning the scratch (lowest gross) trophy was Kevin Eldred with 80-8-72. Winning the handicap trophy was David Roope with 84-14-70 and the veteran's prize went for the second year running to Dennis White with 91-18-73.
Haverhill seniors have continued their friendly matches with mixed results as follows: on May 31 away at Ely City they drew 4-4, another draw followed at their match at home against Flempton 4-4. On June 15 at home against Hintlesham they won 5-3, on June 19 away to Fynn Valley they lost 3-5.
Next they travelled to Bourn on June 22, where they lost 6-8 followed by an away match at Flempton on June 26, where they lost 3-5. On July 11 they played away at The Essex and lost ½-7½ and on July 13 they lost away to Newton Green 1-7.
On Wednesday, July 25, the IFF Challenge Stableford competition was played. The overall winner, three points clear of his nearest rival, was Matthew Cullen with 42pts, reducing his handicap by two shots.
The full results were: Division One, 1 Eric Armstrong 39pts; 2 Kim Ward 38pts; 3 Michael Perrett 37pts on countback.
Division Two, 1 David Seal 37pts; 2 Frank Smith 35pts; 3 Allen O'Donoghue 34pts on countback.
Division Three, 1 Matthew Cullen 42pts; 2 Conor O'Brien 37pts; 3 Paul Mower 35pts.
The next Major in Haverhill's calendar, the R Brown Cup, a 36-hole medal event, was played on Sunday, July 29.
The event was open to all handicap divisions and there were some excellent scores during the morning, notably Steve Rex's 78-16-62, reducing his handicap by two in the process.
The overall winner was David Hiscox, the first event he has won since joining Haverhill last year, with a superb 64+71=135, trimming his handicap by two shots. In second place on countback was Michael Elsworth with 70+69=139 from third place Andy Gage 67+72=139.

Comment on this story
[board listing] [login] [register]
You must be logged in to post messages. (login now)