Crash victim gets £950,000
By Katy Edwards on Thursday, 14th December 2000.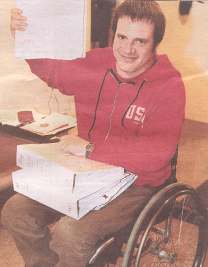 A BLACKSMITH who was crippled after a motorbike crash on a poorly-maintained road has won nearly £1 million damages.
Eric Bowman, 28, a
Haverhill Town Council
lor, was left paralysed from the waist down after the accident near Felsham in December 1996.
He lost control of his Honda bike on a pot-holed left left-hand bend and careered into a ditch, sustaining severe spinal injuries.
Mr Bowman who lives at Cangle Junction in Haverhill, claimed Suffolk County Council has breached its duty under the 1980 Highways Act to maintain the C427 Beyton Road in a safe condition for motorists.
Lawyers for the county council have now agreed to pay him £950,000 in damages after last-minute negotiations before what was expected to be a four-day trial at the High Court in London.
Mr Bowman who devotes much of his time to voluntary work, said: "this is going to give me the security to give as much as I choose to the voluntary sector without having to worry about anything. It's a little bit of freedom.
"It's been a really good day and a good result. It's taken four years but thank goodness it's over and I can put it behind me and get on with my life."
At an earlier hearing, the council accepted "primary liability" for the accident and agreed to compensate Mr Bowman on the basis of 92.5 per cent of the full valuation of his claim.
Approving the final settlement, Robert Walker QC, Deputy High Court Judge said: "The parties have been very well advised and this settlement appears to me to be very eminently reasonable."
A spokesman for the county council said: "This case has been settled on the particular facts of the accident. Road maintenance will continue to be a high priority for the council. Like all highway authorities in the country, we will be getting additional Government funding to be spent on road maintenance next year and subsequent years.
"Most dangerous defects are fixed within twenty-four hours of being reported, and we will be considering how the extra money will improve on this."
Mr Bowman's solicitor, Justine Parry, of Irwin Mitchell said: "Mr Bowman is very pleased this decision has been reached. He's rather a shy chap and he's just glad it's all over."
CAPTION: Happy with outcome of settlement... Eric with some of the documents and photographs relating to his accident which helped him to win a fight for damages.

Comment on this story
[board listing] [login] [register]
You must be logged in to post messages. (login now)