Cup semi-final exit starts a busy week for golfers
Thursday, 16th September 2010.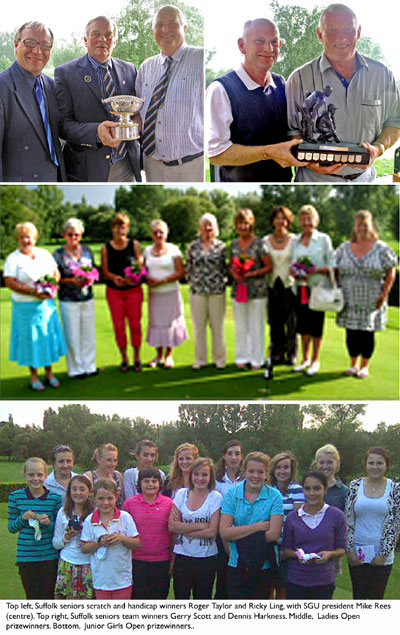 Haverhill Golf Club's campaign to retain the Curry Cup for 2010 was decided last weekend when the defending champions were drawn against Benton Hall at Colne Valley on Sunday, September 5.
Unfortunately Haverhill were outclassed on this occasion and lost 11½-6½. Captain Joe Davis commented: "Sadly, we were beaten by the better team on the day." The final is due to be played at The Essex on Saturday, September 25 and is between Benton Hall and Felixstowe.
The men's midweek medal was played on September 8, with joint scores across all three divisions, having to be separated on countback.
Ken Johnson was the overall winner with a nett 68. The full results were: Division One, 1 Eric Armstrong 79-11-68; 2 Glenn Norris 75-6-69; 3 Duncan Galloway 81-10-71.
Division Two, 1 Trevor Broomfield 84-16-68, 2 Stuart King 83-13-70; 3 John Stokes 86-15-71.
Division Three, 1 Ken Johnson 91-23-68, 2 John Ward 91-22-69; 3 Andrew Howard 100-27-73.
The Woodlands Cup was contested on Saturday, September 11, as a pairs stableford format, played off 7/8th of handicap. Winning with a very impressive score of 46pts were Del Thomas and Charlie Hudson, in second place Eamonn Bareham and Chris Briggs with 45pts and in third place Andy Fish and Paul Donno with 44pts.
Haverhill hosted the Suffolk Seniors Open for the first time on Tuesday, September 7. A field of 45 competitors took part in the 18 holes Scratch Medal tournament for the Geoffrey Barnard Trophy, combined with a handicap competition for age groups 55-61, 62-69 and 70+.
Winning the scratch event on countback was Roger Taylor from Aldburgh with a gross score of 73, just edging Ricky Ling from Rushmere into second place, also with a gross score of 73.
Martin Allen finished in third place with a gross 74 on countback from Jon Marks of Woodbridge, also with 74.
The handicap prizes were won by Ricky Ling with 73-4-69 for the 55-61 age group, Martin Allen of Waldringfield 74-4-70 for the 62-69 age group, and David Moore of Gorleston with 84-12-72 for the 70+ age group.
After narrowly missing out on the individual prizes, Haverhill won the team event and Michael Thomas Trophy, with an impressive combined score of 231 from Eamonn Bareham (gross 76), Dennis Harkness (gross 79) and Gerry Scott (gross 76).
The Ladies Open was held on Thursday, September 9, and it was another good turnout with a field of 68 ladies taking part, representing 21 golf clubs from across the region.
The format was stableford pairs, played off full handicap. Sally Barnes and Matilde Derpsey from Bourn Golf Club won the event with 41pts, with second place going to Claire Aldous and Sally Cade from Newton Green on countback with 40pts. Debbie Howlett and Julie Iveson finished in third place also with 40pts.
The seniors played in two matches last week, the first away to Saffron Walden where they lost 7-1, but they turned their fortunes around for the next match at home against Heydon Grange where they won 6½-1½.
The annual Bungay and Waveney Valley Golf Club Junior Open was held on Sunday, September 12. Haverhill juniors had a very good turnout with Richard Boyles, Stephen Boyles, Liam Merritt, Charlie Siegler, Ellis Brown and James Higham all taking part.
In a competitive event with 60 players representing 19 different clubs across Suffolk and Norfolk, playing in very tricky conditions, the boys had a successful day.
The highlight for the Haverhill contingent was in the 15-28 handicap section, with James Higham (aged ten) shooting a nett score 68 to win his first open competition.
Finally the Haverhill Junior Girls Open was held on Sunday, September 12. The event was played as an 18-hole medal for 0-25 handicaps, 18-hole stableford for 25-36 handicaps, and a 10-hole stableford competition for 25-36 handicaps.
Tabitha Brain from Gog Magog won the scratch event with a gross 87. Winning the medal was Alex Shepherd from Bury St Edmunds with 94-21-73, in second place Mellisa Schroeder from Rushmere with 98-22-76 and in third place Faye Trigg from Braintree with 88-12-76.
The results of the 18-hole stableford competition were: 1 Antonia Ridley from Stowmarket with 39pts; 2 Chloe Ashman from Ely City with 29pts; 3 Chalani Allen from Gog Magog with 21pts. Haverhill's Alice Iron won the 10-hole stableford event.

Comment on this story
[board listing] [login] [register]
You must be logged in to post messages. (login now)