Cupid strikes again!
By Beth Hale on Thursday, 27th January 2000.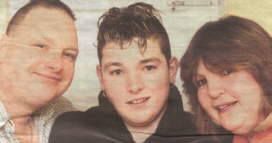 A COUPLE who split up 18 years ago are looking forward to getting married - just days before their former partners also tie the knot.
Cupid's arrow struck again for Ruth Plumb and Alan Langford, who are planning a Valentine's Day wedding at Gretna Green.
And in a bizarre twist of fate the couple's former partners are planning their own wedding just five days later.
Ruth and Alan, who live in West Wickham, met as young rock and roll fans in 1980 and a year later Ruth became pregnant with their son Darren.
Ruth said: "Alan and I were seeing each other but he was a scoundrel to me. I fell pregnant in 1981 and basically Alan didn't want the responsibility so we didn't see each other."
In the following years Ruth, 38, had four failed marriages, and Alan, 39, also married, settled in Fulbourn.
But as time passed the pair often thought of each other.
Healthcare support worker Ruth explained: "We are both Meatloaf fans and now we have got together we have found out over the years there was one record we used to play that made us think of each other, Meatloaf's For Crying Out Loud."
When Ruth told a colleague about her young romance with a man called Big Al, she discovered he was living in Fulbourn with a wife and five children.
She said: "By this stage our son Darren was 14 and was asking about his dad and it was really for Darren's benefit I rang Alan."
The family were reunited at a Harley Davidson weekend in 1997. Ruth, who also has three daughters, again fell pregnant by Alan, with their son Harley. Alan moved in with Ruth a year ago.
"I can say now I know what love is and I'm so happy," said Ruth.
Alan said the couple came up with the idea to marry at Gretna Green after spotting an old Gretna Green wedding picture in an auction.
He said: "It was like an omen. I tried to wait to propose but I couldn't wait so I did so on Christmas Day."
During all the relationship turmoil Alan's wife Lauren, and Ruth's partner John Russell also met and the pair formed a relationship.
Now the couple, who live in Fulbourn, are looking forward to their wedding on February 19 and the birth of a new son or daughter in three months' time.
"We haven't had a very good time," said Lauren. "It does seem a bit strange, but we are happy together and it seems right now.
"The backbone of it all is that when I have problems John is there and when John has problems I've been there."
PICTURE CAPTION: Back together once more . . . Ruth Plumb and Alan Langford, with their son Darren.

Comment on this story
[board listing] [login] [register]
You must be logged in to post messages. (login now)