Darragh thwarts fellow Haverhill golfers
Tuesday, 15th March 2011.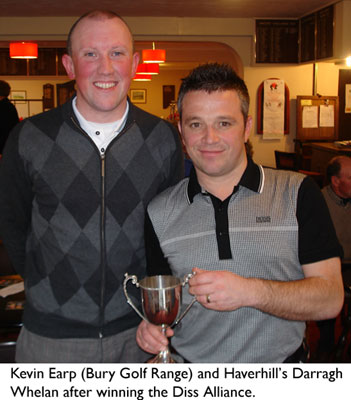 The penultimate Winter Alliance Meeting of the season was played on a fast-running course at Diss Golf Club, where three Haverhill players figured in the running with one point splitting the leading two pairs.
The first pair to finish were Trevor Broomfield and Mark Firman who returned 45pts thanks to three birdies being contributed by Mark, but their efforts were thwarted by fellow club member Darragh Whelan and playing partner Kevin Earp, (attached to Bury Golf Range), who finished on 46 pts.
Kevin's individual four under par score of 66 ensured he took the dayís professional prize and he will also share the Alliance Millenium Cup, which is also the target of the competing teams. The final Alliance meeting will be staged at Haverhill on Thursday, March 31.
On Wednesday and Saturday, March 2 and 5, the Ladies Medal competitions were played at Haverhill Golf Club.
Once again Mary Sail clinched the midweek prize on countback with a score of 96-16-80. In second place was Jacqueline Condon with 99-19-80 and in third place Geraldine Wheatley with 104-23-81.
On Saturday, March 5, Geraldine Wheatley won the medal with a commendable score of 98-23-75, in second place Mary Sail 92-16-76, and in third Lyn Fish 103-25-78.
Haverhill ladies Sally Price and Karen Wilby played in their Daily Mail foursomes match drawn at The Essex on Thursday, March 3. After being three down after eight holes, the Haverhill pair managed to claw back the deficit to all square on the 16th.
However on the par five 17th the Essex ladies won the hole, then halved the par five 18th to win the match one up and qualify for the next round.
The menís medal was played on Sunday, March 6. Stephen Chandler was the overall winner with an impressive nett 66, just edging out Andy Fish on countback. As a result, Steveís handicap has been reduced by two shots to 24.
The full results were: Division One, 1 Andy Fish 70-4-66 (lowest gross); 2 Michael Perrett 80-12-68; 3 Ed Baker 79-10-69.
Division Two, 1 Scott Turner 82-15-67; 2 Julian North 82-13-69; 3 James Bowser 85-16-69.
Division Three, 1 Stephen Chandler 92-26-66; 2 James Higham 89-23-66; 3 Sean Doyle 101-24-77.
On Wednesday, March 9, the men played their midweek medal. The overall winner was Mark Firman with a fabulous nett 65.
The full results were: Division One, 1 Peter Garner 78-11-67; 2 Lee Chandler 77-7-70; 3 Peter McLennan 83-12-71.
Division Two, 1 Mark Firman 79-14-65, 2 Chris Williams 88-19-69; 3 Stewart Johnstone 89-19-70.
Division Three, 1 Duncan Watson 91-25-66; 2 Ken Johnson 90-23-67; 3 Dick Sisman 90-21-69.
The Ladies LGU Peugeot Coronation Foursomes was played on Saturday, March 12. The winners, Lyn Fish and Catie Heathfield, scored 32pts and they have qualified to play in the regional final scheduled for later in the year.
In second place with 31pts were lady captain Marian Mercer and Geraldine Wheatley and in third place with 30pts Sally Price and Karen Wilby.
After the glorious weather conditions on Saturday, it was a very unsettled day on Sunday for the Junior Medal.
In pouring rain, Lewis Whiting won with a very commendable 36pts and has reduced his handicap to nine. In second place was James Higham with 33pts and in third place on countback was Liam Merritt on 32pts, having just edged out Louis Martin and Alice Iron, both with 32pts.

Comment on this story
[board listing] [login] [register]
You must be logged in to post messages. (login now)