Dave is no fool with an ace at Captain's Drive-In
Wednesday, 18th April 2012.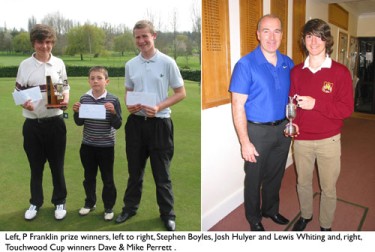 At the Captain's Drive-In at Haverhill Golf Club on April 1, Dave Cohen, scored a hole-in-one using a seven iron on the par three second hole, which was playing 144 yards off the white tees.
It was a great day to celebrate, with 152 competitors taking part in the event!
Six of Haverhill's junior golfers took part in the Stoke by Nayland Junior Open on Tuesday, April 10. There were a number of prize categories for u18s, u16s, u14s (net and gross scores) and in all 149 juniors took part in this very well supported event.
The Haverhill contingent played 36 holes medal, on the testing Gainsborough and Constable courses. Haverhill's Lewis Whiting was the proud winner of the under 14s prize, having the best gross score with rounds of 87-6-81 and 82-6-76.
The men's midweek medal on Wednesday, April 11, provided an extremely close result across the divisions, with four players sharing the same net score.
Ryan Greenwood just clinched the overall prize on countback with an excellent round of 92-25-67. As a result his handicap has been reduced by a shot to 24.
The full results were: Division One, 1 Gary Liddle 71-4-67; 2 Kim Ward 79-12-67; 3 Jack Warwick 74-7-67.
Division Two, 1 Steve Piotrowski 84-15-69; 2 Simon Cousins 85-15-70; 3 Stewart Johnstone 90-19-71.
Division Three, 1 Ryan Greenwood 92-25-67; 2 Peter Amies 92-23-69; 3 Graham Hepworth 92-22-70.
The juniors 'A Steam' competition was played on Thursday, April 12. The format was medal for handicaps scratch to 28 and stableford for handicaps 29 and over.
The winner of the medal competition was Mitchell Davis with a fabulous round of 78-16-62 and as a result he has trimmed his handicap by two shots to 14.
In secnd place was Lewis Whiting with the lowest gross score 69-7-63, also trimming his handicap by a shot to five and in third place Michael Perrett with 73-6-67.
The Stableford competition, for handicaps over 29 was won by Joshua Hulyer with 40pts. As a result Joshua has had his handicap cut by two shots to 30. In second place with 32pts was Edward Halpin and in third place on countback was Nicole Pike with 28pts.
On Friday, April 13, the juniors P Franklin was played, medal format for handicaps scratch to 28 and stableford for handicaps 29 and over.
Stephen Boyles was the winner of the medal competition with an excellent round of 78-12-66 to cut his handicap by a shot to 11. In second place was Lewis Whiting with the lowest gross score of 72-5-67, and in third place was Louis Martin with 94-27-67 on countback, just edging out Michael Perrett with 73-6-67.
In the Stableford competition, Josh Hulyer was the clear winner with a commendable 34pts, in second place was Dan Walker with 30pts and in third place Ben Bradnam with 28pts.
The final of the Touchwood Cup was played on Saturday, April 14. The format was foursomes match play and the father and son pairing of Dave and Mike Perrett were up against Jack Bligh and Pete McLennan.
McLennan and Bligh made a fast start by winning the opening two holes and nearly took the third, however after a long birdie putt from Mike Perrett to halve the hole, they managed to steady the ship.
The Perretts went on to win the next six holes with a combination of three birdies and three pars, giving them a four-hole advantage at the turn. Bligh and McLennan fought back and halved the tenth but were unable to mount a comeback as the Perretts won the next three holes to run out 6&5 winners and claim the trophy.
Haverhill juniors played a friendly match against Newton Green on the same day. Event organisers, lady captain Doreen Darbey and Val Shipp, commented that the match was played in excellent spirit and resulted in a halved match overall.
The full results were (Haverhill players first): Mitchell Davis & Alice Iron won 2&1 against Scott Edwards & Harvey Watts, Louis Martin & Dan Walker lost 5&4 to Jed Seeley & Alex Ashworth, Josh Hulyer & Anneka Benson lost 5 &3 to Max Henson & Taylor Roloff and Dan Bentley & Nicole Pike won 2&1 against Tom King & Ben Uttridge.
Following the junior match, Haverhill men played their friendly match against Abbotsley, with eight pairs from each club battling to win the 'bone of contention' trophy!
The match format was Hambro scoring and Haverhill managed to maximise the home advantage and claim a seven-hole victory to retain the trophy.
Suffolk under 14s played host to the Sussex under 14s in a friendly match at Rookery Park on Sunday, April 15. Haverhill's Lewis Whiting and James Higham were both selected to represent Suffolk, however they battled a very experienced Sussex team in difficult conditions and sadly lost 12-4 overall.
Despite having lost all the foursomes matches in the morning, both Lewis and James played very well in their singles matches in the afternoon, Lewis went on to halve his match and James won his 4&3.
As a result both hope to be selected to play in the Keith Bass Trophy in July, which is a four counties competition.
Haverhill seniors had mixed results in their friendly matches during March and April as follows: on March 30 they played at home against the Notleys where Haverhill won 4˝-3˝, on April 3 they played host against Bury St Edmunds and won 6-2.
On April 4 they were drawn away at Girton and lost 2˝-5˝, and on April 11 Haverhill managed an excellent away win at Royston 5-3. However their fortunes changed on Friday, April 13, where they played at home against Thetford and lost 1˝-6˝.

Comment on this story
[board listing] [login] [register]
You must be logged in to post messages. (login now)