Dave's big take away
By Jo Deeks on Thursday, 28th December 2000.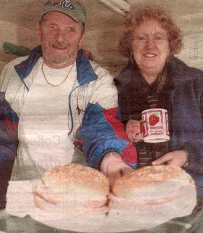 A COUPLE who spend their lives surrounded by burgers and fired onions have managed to lose a massive seven stones in weight between them.
Dave Jaques, 50, runs a burger van at a layby on the outskirts of Haverhill, and wife Jenny often helps out and visits for lunch.
Old customers may have trouble recognising Dave who has lost more than four-and-a-half stones with the help of Slimming World in Haverhill, which he joined 18 months ago.
Jenny, 55, who has been married to Dave for 37 years, also joined and lost two-and-a-half stones.
"What finally made me join the class was when we went on holiday to Mexico and they had those white plastic chairs, and I broke three of them. I was over 20 stones and I knew I had to do something about it."
"People think 'diet' means salads and starving. I eat plenty ­ turkey drumsticks, roast chicken, stew and of course bacon and egg brown rolls from my van. I can also enjoy the odd pint and still lose weight, Dave said."
The couple, who have four children and six grand-children, still enjoy all-inclusive holidays, but know if they over-indulge they can get back on track at the class when they get home.
Julie Collis who has been running Slimming World classes in Haverhill for the past six years and with new Clare consultant Trish is launching a updated food optimising book for 2001. For more information about classes ring (01440) 708673
PHOTO CAPTION: Less fat... David and Jenny Jagues who have lost seven stones in weight between them.

Comment on this story
[board listing] [login] [register]
You must be logged in to post messages. (login now)