David Hart comes to Haverhill-UK
Saturday, 26th September 2009.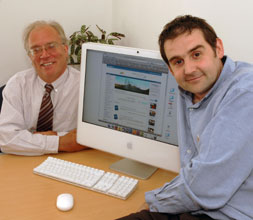 This week the former editor of the Haverhill Echo, David Hart, takes over as editor of Haverhill-UK News, which is being developed as a comprehensive local news and views service for Haverhill, to add to the offer of Haverhill-UK, the town's most popular website.
The site, which celebrated its tenth anniversary this year, will now carry regular local news stories as they happen, in addition to its What's On, business and community sections.
It will also provide users with a chance to make their views known on local issues and on the stories and features carried.
David Hart will lead the way with a return of his weekly column - now called 'Hart of the Matter' - to encourage or inflame your opinions.
Mr Hart, 56, has been a journalist in Haverhill for 32 years, beginning as a trainee reporter in April 1976.
He was deputy editor of the Echo for 20 years and editor for three years until being made redundant a year ago by the paper's parent company Anglia Newspapers Ltd.
He recently won his claim at an employment tribunal for unfair dismissal from the company.
He said: "It is good to be back at the heart of what is going on in my home town, and I hope the project to develop a local news service at Haverhill-UK can benefit from my years of experience here.
"Coming from a 120-year-old newspaper, one might think of websites as a very young part of the media, but this one has been around for ten years and has been at the forefront of this new method of delivering information.
"The news project will be starting from a small base, but we hope in time it will grow to be a vital part of people's everyday lives in the town."
Jason Fitzpatrick, founder of Haverhill-UK, said: "We are delighted to welcome new editor David Hart to the Haverhill-UK team. David's presence is yet another sign of our continuing growth and exemplifies the website's continued commitment to create Haverhill's premier media source for news and entertainment.
"David's investigative reporting skills, familiarity with Haverhill, incisive comment and sense of humour will strengthen Haverhill-UK's commitment to serious journalism,"

Comment on this story
[board listing] [login] [register]
You must be logged in to post messages. (login now)