Days Inn passes audit with flying colours
Monday, 28th October 2013.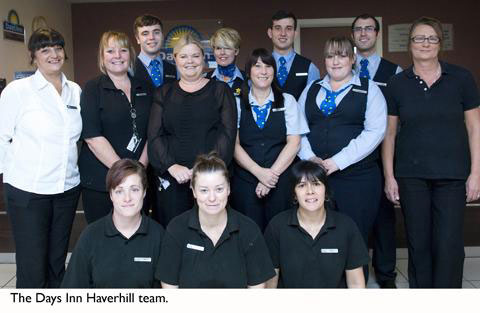 The team at Days Inn Haverhill were delighted to pass a recent audit of the hotel and its facilities with flying colours.
The Wyndham Hotel Group, which owns the Days Inn Worldwide brand, conducts annual audits on its hotel properties to ensure that high standards are consistently maintained.
Days Inn Haverhill is independently owned by Nic Rumsey and operates under a franchise agreement.
The Wyndham audits are unannounced and carried out over 24 hours. The auditor checks into the hotel, uses all the facilities and interacts with as many of the staff as they can.
They assess the cleanliness and condition of the hotel in addition to measuring how well the hotel complies with the brand guidelines and guest services procedures. Days Inn Haverhill attained an overall score of 90.3 per cent.
General manager Donna Revell said: "I was really pleased with the results. I believe that my team do an excellent job every single day and night of the week but it's always re-assuring to know that we are actually getting it right.
"The Wyndham audit is particularly stringent and to pass with over 90 per cent is an achievement that we are very proud of.
"When the lady checked in at 2pm we had no idea that she wasn't a real guest. It was only after she had eaten breakfast and checked out at 10am the following morning that she announced who she was.
"Her audit then continued with inspections of the conference room, public areas, a further five bedrooms and the exterior of the hotel. She left us at 3pm and her final report was 48 pages long - the devil really is in the detail!"
The auditor, who has to remain anonymous, made a number of positive comments about individual team members. Her overall view was that all team members she spoke to were cheerful, friendly and helpful and that any requests she had were dealt with in a confident and efficient manner.
The Days Inn Haverhill breakfast, which includes the renowned handmade sausages from Kedington Butchers, also received positive feedback with the auditor commenting: "This breakfast was a great start to the day with a variety of appealing items."
The final word goes to guest services assistant Dan Betts, the newest and youngest member of the Days Inn Haverhill, who said: "This was my first experience of an audit. I actually checked the lady out and was on the reception when she announced who she really was.
"It was a bit of a surreal moment and then I just hoped that I had followed the checkout procedure correctly and hadn't let the team down in any way. We scored really well so my training had obviously paid off."

Comment on this story
[board listing] [login] [register]
You must be logged in to post messages. (login now)