Days Inn team celebrate seven years since the tornado
Monday, 9th December 2013.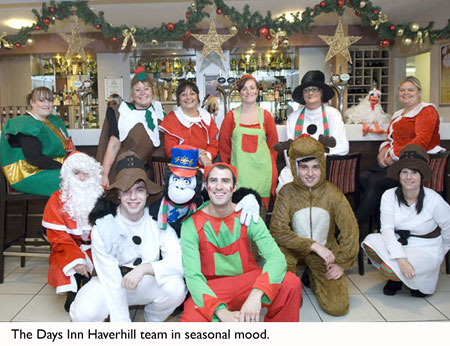 The team at Days Inn Haverhill are gearing up for some festivities of their own this month as they celebrate their seventh birthday.
The 80-bedroom premium budget hotel made the national headlines when the roof blew off after being hit by a freak tornado on the day it opened.
Despite the dramatic start the Days Inn has gone from strength to strength providing the local area with much needed hotel accommodation, business conferencing facilities and an ideal venue for private functions and weddings.
General manager Donna Revell said: "There have been so many highlights over the last seven years - it's hard to choose a favourite.
"Winning the Days Inn UK Hotel of the Year in 2007 was certainly one of my proudest moments. For 2008 the highlight was being awarded Employer of the Year at the CB9 Business Awards.
"Getting our civil licence in 2009 and hosting our first full wedding ceremony and reception in July 2010 was another milestone.
"We were all so conscious of our responsibility to ensure that we made a positive contribution to the bride and groom's special day.
"In 2011 we picked up the Environmental Award at the Haverhill Chamber of Commerce Business Awards.
"Since winning that accolade we have continued to focus on reducing our carbon footprint and in July we had 120 solar panels installed on our famous roof which will generate 25,000 units of electricity.
"This year has certainly been a memorable one. We were honoured to receive a 2013 Certificate of Excellence from Trip Advisor in the summer and we also scored over 90 per cent in a recent Wyndham Hotel Group audit.
"I am immensely proud of our team and the positive comments that we receive from guests. The common theme is that the team are friendly, polite and nothing is too much trouble.
"I believe that the strength of our team has been one of the critical factors in our success. I am looking forward to the next seven years!"
Three members of the Days Inn team have been with the hotel since it opened in 2006 and another five have been employed for more than five years.
The hotel adopts a proactive approach to staff training and development and encourages promotion from within.
Jenny Daly, one of the longest serving members of staff, started her career with the hotel as a part-time guest services assistant and has received a number of promotions to become guest services manager.
The Days Inn team has gained a reputation for its sense of fun which is evident in its quirky Christmas advertising campaigns.
Dressing up in Christmas outfits to be photographed and videoed performing Christmas songs has become something of a tradition.
The Twelve Days of Days Inn 2013 video was produced in collaboration with talented puppeteer Laura Bacon and videographer Daniel Bell from Adect Film Productions and can be seen on the Days Inn Haverhill You Tube channel.
For further information about the hotel or Christmas bookings please visit www.haverhilldaysinn.co.uk or call 01440 716950.

Comment on this story
[board listing] [login] [register]
You must be logged in to post messages. (login now)