Deserted manor to be reborn
Thursday, 2nd March 2000.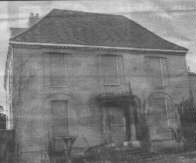 GRANT aid is being offered to St Edmundsbury Borough Council to restore a listed building in Haverhill which has stood empty for more than a decade.
Vale Manor, a Grade 2 Listed Building believed to have been built around 1795, has been added to St Edmundsbury Borough Council's Buildings at Risk register.
Members of the council's planning committee are recommended to make a grant up to £10,000 available towards work on the building.
The former vet's surgery premises were bought by Les Rosan, who also bought the title Lord of the Manor of Haverhill several years ago. He planned to restore the building as a family home but, after some initial clearance work, nothing more has been done.
The report to councillors said officers had met one of the owners and two building contractors. Estimates for the complete repair and refurbishment of the building were expected soon.
Christine Burgess, conservation officer for St Edmundsbury, said the building was in a very poor state and the aim of inclusion on the register was to get it restored.
Often people looking for properties to restore looked at the register and this could sometimes encourage a sale, she said.
Some repair work was started in 1996 but this stopped and the building was badly vandalised. Since then, further work had taken place to make it secure but the Council wanted to stop it falling into further disrepair and could only offer grant aid, being unable to force an owner to undertake repairs.
Powers did exist to take some action as a last resort if a building was in serious danger but this was not the case at Vale Manor., where the owner was making an effort to deal with the building.
"We think it is better to work with the owner of the building. All we want is to see it restored and in use again," Ms Burgess said
PICTURE CAPTION: Manor marked for revamp . . . Vale Manor, Haverhill.

Comment on this story
[board listing] [login] [register]
You must be logged in to post messages. (login now)