Digi van will precede cyclists in Friday's big race
Monday, 13th September 2010.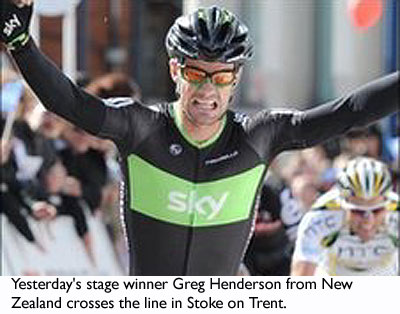 Excitement is building up with the approach of the Tour Of Britain cycle race to Haverhill on Friday.
If you haven't already been following the progress of the race, which began on Saturday in Rochdale, you can watch it daily on ITV4.
Friday's stage starts in Bury St Edmunds and will see Bradley Wiggins, Geraint Thomas and all the rest of the stars pass through Haverhill and Clare on their way to a finish in Colchester.
Those who want to watch are in for a treat in advance as the race publicity caravan gears up to travel the route through Suffolk ahead of the cyclists.
The publicity caravan, organised on behalf of Suffolk County Council, will consist of three support vehicles with team riders and a 'Digi van' playing clips from the previous day's racing.
Promotional staff will accompany the vehicles and hand out merchandising, goodie bags and flags.
Spectators will also have the opportunity to win one of two bikes supplied by Elmey Cycles, by guessing how long it will take a member of staff from Elmey Cycles to pedal back to Bury St Edmunds from the King Of The Mountains climb at Ballingdon Hill.
Setting out from Haverhill at 9.30am, the caravan will travel to Clare, Cavendish, Long Melford and Lavenham, arriving in Sudbury at 11.30 am.
Cllr Rosemary Clarke, county council portfolio holder for sport, culture, health and diversity, said; "Suffolk is the only county on the Tour Of Britain to use a publicity caravan so we hope residents and spectators will come along and enjoy the excitement and anticipation this will raise."

Comment on this story
[board listing] [login] [register]
You must be logged in to post messages. (login now)