End of the road for long-standing coach company
Tuesday, 31st May 2011.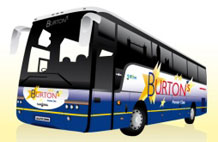 A coach company which has been a part of Haverhill life for over 60 years has gone into administration.
Suffolk County Council was informed on Friday that bus operator Yellow Star Travel Services of Haverhill (operating as Burtons) would cease to trade immediately.
Stephensons of Essex will take over with immediate effect. Company matters are being dealt with by a firm of administrators.
Burtons operate several contracts for local bus services in the area as well as some commercially operated services.
The council has been working closely with the administrators to ensure that the public will continue to have bus services available.
As a result, and with effect from last Friday, services will be operated by the new owners of the company and in some cases it has been agreed that contracts will transfer to different bus companies.
In all cases the intention is that services will continue on their current timetable and the only difference will be the operating company.
Cllr Guy McGregor, the council's portfolio holder for roads, transport and planning, said: "Our priority is to ensure that the interests of the travelling public are acted upon.
"We were of course concerned to hear this news; however, we have worked to ensure passengers are not affected."
The following services will now be operated by Galloway European Coachlines: 377 and 386.
The following services will now be operated by Stephensons of Essex: 14, 14A, 15, 15A, 15B, 16, 17, 905, 981 and 985.
The following services will now be operated by Stephensons of Essex as from Monday, June 6: 200, 201, 312, 343, 944, 945 and 946.
Stephensons of Essex will also now be operating Essex County Council contract service 59.
Updates on individual routes can be found at www.suffolkonboard.com as well as the Traveline website.
Click on the topics to bring up a seris of explinations and snapshots releated to each of these land mark events from the company's past.
Burtons was established in 1948 at Burton End Garage in Haverhill, Suffolk. Later in 1971 the company relocated to a purpose built depot at Duddery Hill, Haverhill.
In 1998 the Richardson family, second and third generation decendants of the company's founders retired and Paul Cooper was appointed as managing director. He spearheaded the company's expansion and during the following ten years developed it into a major bus and coach operation.
In 1998 Burtons acquired Premier Travel Services, thus expanding its interests in the Cambridge conference market, corporate travel and bringing the ever popular Premier Daybreaks day excursion programme to the Burtons fold.
In late 2003 the company joined the Tellings Golden Miller Group plc making it part of a large network of operators covering the UK and an even more dominant player in the East Anglia bus and coach industry.
During 2004 Burtons acquired Frank Harris Coaches of Grays, Essex, thus extending its influence to the London Gateway and Thames Estuary.
In 2004 Burtons acquired 'Network Colchester' from Arriva and set about developing a network of urban bus services in Colchester and tendered rural services in the North Essex hinterland.
More recently it took on the extra name of Yellow Star Travel Services.

Comment on this story
[board listing] [login] [register]
You must be logged in to post messages. (login now)