England call-up for Andrew, 11
By Laura Matless on Thursday, 17th May 2001.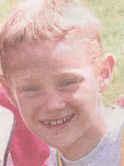 AN eleven-year-old Haverhill athlete will represent England in under 12 race-walking.
Andrew Graham, who attends Chalkstone Middle School, Haverhill, has received a letter from the UK Athletics Board asking him to represent England in the under 12 race-walk which takes place in Dublin on June 16.
Bert Tarpley, coaches the St Edmunds Pacers, Andrew`s running club. Mr Tarpley said: "Andrew has tremendous talent. I would certainly tip him to represent England. He has the fluidity and mobility, he is able to put in all his strength and energy."
Two weeks ago, Andrew competed in the inter-counties race-walking championships at the Don Valley Stadium in Sheffield.
Andrew was the youngest in the 2,000 metre race, yet still took third place.
Last weekend Andrew competed in the County Track and Field event at Bury St Edmunds, taking the gold medal in the one kilometre race walk and the silver medal in the 800 metre race and the long jump.
Mick Graham, Andrew's father, said: "It was his first run in the under 13 age group and he ended up with the silver medal. No one expected him to do that well except possibly his coach.
"He had to do the long jump straight away. He was still out of breath from his 800 metre run and he got to do just one jump instead of six.
"Then it was the one kilometre race-walk, he got the gold medal for that."
Mr Tarpley said: "I watch people's faces when they run and you can see the look of enjoyment and satisfaction on Andrew's face.
"At last England is waking up to the fact that tomorrow's athletes are the children of today. In other countries they look after them a lot better than they do here. You go to other countries and they have excellent facilities," he said.

Comment on this story
[board listing] [login] [register]
You must be logged in to post messages. (login now)