Exemplary apprenticeships campaign to continue
Monday, 13th October 2014.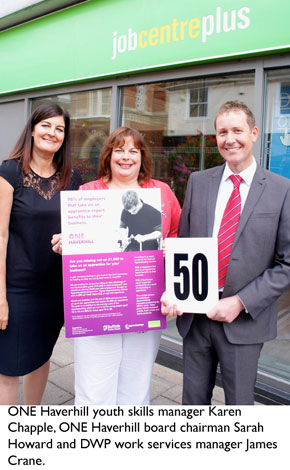 The success of ONE Haverhill's Apprenticeships Campaign, which has created more then 50 apprenticeship places for the town's young people, will continue to be funded by Jobcentre Plus, it has been announced.
It means that the post of youth skills manager held by Karen Chapple and associated funding to run the project will continue to be met for a further year by Jobcentre Plus so that ONE Haverhill can continue its work to provide more opportunities for Haverhill young people.
The successful campaign has also resulted in other local areas expressing interest to Jobcentre Plus in carrying out a similar project in their community.
Last month, ONE Haverhill announced the campaign had resulted in a total of 51 new apprenticeship places created so far in the local area for Haverhill young people with 32 positions already filled.
Working with businesses to help facilitate more Apprenticeship opportunities for Haverhill young people was one of the key aims of ONE Haverhill's Community Budget Plan launched last year.
Haverhill was chosen by the Government in 2011 as one of just 12 areas in the UK to pilot a new way of giving local communities more say in the way budgets are spent (now called Our Place) and are now Ambassadors for the project.
James Crane, Department for Work and Pensions work services manager, said: "The ONE Haverhill project is an excellent example of true partnership working which is yielding some great results for young people.
"Jobcentre Plus is proud to be part of this initiative and I am pleased that we have now secured a further year's funding to work even closer with local employers, training providers, and schools across Haverhill to reduce the problem of youth unemployment.
"There is already interest from other local authority areas looking to implement projects of a similar nature so I very much hope this will act as a blueprint for further partnerships of this kind."
The Haverhill Community Budget set out to achieve change for the town initially in two areas - better opportunities for our young people and improving the physical environment in the town, all priorities decided on by extensive community engagement with local residents.
The youth skills manager post is managed by
Haverhill Town Council
.
The ONE Haverhill community budget has also resulted in national recognition and won praise from the Minister for Communities Stephen Williams MP.
He said: "ONE Haverhill are an exemplary Our Place area. Their work is delivering real benefits for their community and powerfully demonstrates our assertion that an Our Place approach - a partnership based, community-focused approach - can revolutionise the way a neighbourhood works.
"And what's more they are using their successes to inspire and encourage others to work in this way, through peer mentoring and the Champion's Network.
"I am particularly impressed by their work on the local economy and providing opportunities with apprentices. I look forward to following their work as they continue to raise their communities' aspirations and quality of life."
Companies with less than 1,000 employees can take advantage of a Government grant of £1,500 to assist employers who commit to offering 16 to 24-year-olds employment through an apprenticeships programme.
Companies can take on up to ten apprentices and receive £1,500 per apprentice. The grant is in addition to the training costs of the Apprenticeship which are met in full for young people aged 16 to 18 and 50 per cent for those aged 19 to 24.
Sarah Howard, Chair of ONE Haverhill board and Suffolk Chamber of Commerce representative, said: "I am thrilled by the response we have had from local business and our young people.
"I've met several of our apprentices and their employers in the last week and the difference it has made both the the individual and the company they are working for makes all our hard work worth it.
"Karen does a fantastic job, she is a real asset and has made such a major positive contribution to our town."
If you are an employer or a young person who would like further details on apprenticeship opportunities in Haverhill or the Government's apprenticeship grant contact youth skills manager Karen Chapple for an informal chat on 07877 142000 or email youthskillsmanager@onehaverhill.co.uk.

Comment on this story
[board listing] [login] [register]
You must be logged in to post messages. (login now)