Explosion leads to blaze at biochemical plant
Wednesday, 16th December 2009.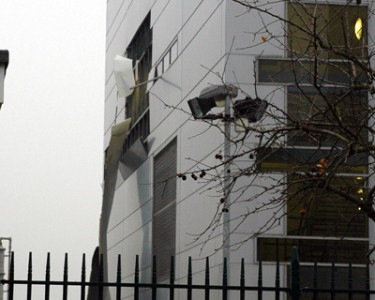 Fire crews from all over the area descended on Genzyme in Haverhill early this morning after fire broke out following an explosion in the Rookwood Way plant.
Two crews from Haverhill, and crews from Clare, Wickhambrook, Linton and the Cambridgeshire turntable ladder attended after the call around 12.20am.
The fire service were delayed for some time gathering information about the extent of the incident which turned out to be a fire contained in a hopper in a four-storey building used for phamaceutical manufacturing.
It was finally extinguished just after 4.30am. A thermal imaging camera was used but there are no reports of any casualties.
A statement from the company issued this morning says: "Following an incident at the Genzyme Facility at 12 Rookwood Way, the premises were evacuated in accordance with Genzyme's safety and emergency procedures.
"Everyone has been accounted for and there have been no injuries.
"The incident consisted of an explosion within one of our manufacturing facilities. The situation is now under control. There was no off site impact.
"The affected Haverhill manufacturing facility has been operational since its construction in 2002.
"The site as a whole employs approximately 360 people. The primary activity is the manufacture and distribution of Pharmaceutical products."
The explosion was heard some distance away. Barbara Richardson, who lives in Hamlet Road was woken up by it.
She told Haverhill-UK: "I was woken up at after 12am by a muffled bang and my sash windows rattled. I thought it was a bad dream and with my heart pounding went back to bed.
"Within a short space of time there was another muffled bang and this time I looked out of the window. My heart was pounding and I was really scared. I tried to wake up my husband but he was fast asleep!"
Another witness has reported hearing three explosions coming from the tallest building at the plant.
Click Here for More Pictures >>>

Comment on this story
[board listing] [login] [register]
You must be logged in to post messages. (login now)