Fabulous scores by junior golfers in Spring Cup
Wednesday, 13th June 2012.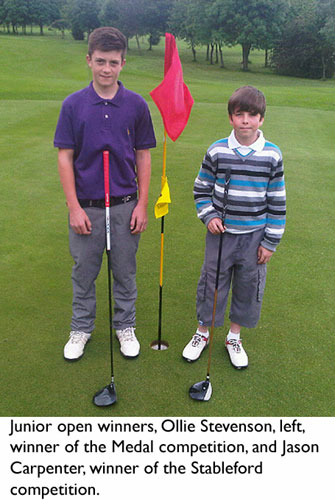 On Tuesday, June 5, the Junior Spring Cup was played at Haverhill Golf Club, the format Medal off the white tees for handicaps 0-28 and Stableford off the red tees for handicaps over 28.
Some fabulous scores were returned and the winner with a score of 84-22-62 was Ollie Stevenson, cutting his handicap by three shots to 19. In second place was Lewis Whiting with a round of 73-5-68 and in third place Chris Vince with the lowest gross score of 72-2-69.
In the Stableford competition James Iron, playing off a handicap of 35, had a superb round scoring 42pts. In second place was Josh Hulyer playing off a handicap of 30, scoring 40pts and in third place Jason Carpenter playing off 36 with a score of 38pts.
Haverhill hosted the Junior Boys Open on Wednesday, June 6. An overall field of 38 competitors took part, representing nine different clubs throughout Suffolk.
There were 29 juniors playing in the Medal competition off the white tees and nine playing in the Stableford competition off the red tees.
It was another exceptional day for Haverhill's Ollie Stevenson who continued his recent form with a score of 81-19-62. As a result of this round and his round the previous day, Ollie slashed his handicap by an amazing seven shots to 15.
Haverhill's Louis Martin finished in second place, just a shot off the pace with an excellent round of 90-27-63, reducing his handicap by three shots to 24.
In third place was Matthew O'Doherty from Stowmarket with a score of 76-11-65. The lowest gross score, was James Biggs from Diss Golf Club with 72-3-69.
In the Stableford competition Haverhill's Jason Carpenter, playing off a handicap of 35 scored a remarkable 49pts, reducing his handicap by three shots to 32.
Toby Fellows finished in second place with 47pts and in third place Josh Hulyer with 46pts. The winner of the ten-hole Stableford event was Harry Proctor with 16pts, in second place Matthew Russell with 11pts and in third place Ross Forbes with 10pts.
Haverhill Ladies Midweek Medal was played on Wednesday, June 6. Marion Kendall was the clear winner, five shots ahead of her nearest rival, with an excellent round of 91-22-69, cutting her handicap by two shots.
In second place was Gillian Barke with 88-14-74 (lowest gross) and in third place Mary Sail with 92-16-76.
On Sunday, June 10, the men's medal was played. The overall winner, with an impressive score of nett 63 was Simon Cousins, just edging out Neil Farlie on countback.
The full results were: Division One, 1 Neil Farlie 75-12-63; 2 Matt Farlie 76-11-65; 3 Peter Driscoll 81-12-69.
Division Two, 1 Simon Cousins 77-14-63; 2 Nigel Taylor 83-16-67; 3 Stuart King 82-13-69.
Division Three, 1 Charlie Tapp 98-28-70; 2 Lawrence Drysdale 99-27-72; 3 Anthony Choat 96-24-72.
Haverhill Ladies contested the June Smith Silver Salver on Sunday, June 10. Lady captain Doreen Darbey was the winner with a score of 36pts, just one point ahead of second-placed Lyn Fish with 35pts and in third place was Jackie Condon with 34pts.
The Suffolk Amateur Championship was played at Halesworth Golf Club on Sunday, June 10. Stowmarket's Sam Forgan was the Challenge Trophy winner with 68+70=138 (six under par) and Sam Jaggard of Southwold carded a 70+68=142 to win the John Doe Salver.
The Handicap prize was won by Joshua Murton of Felixstowe Ferry with a gross score of 150 (handicap six) nett 138.
Haverhill's Chris Vince just dipped out of the handicap prize by one shot with two very commendable rounds of 72+71=143 (handicap two2, nett 139).

Comment on this story
[board listing] [login] [register]
You must be logged in to post messages. (login now)