Face of 2000 appears on booklet's from cover
Thursday, 24th January 2002.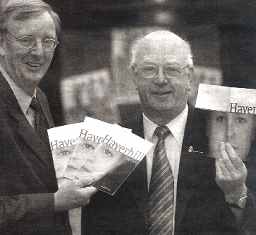 A striking reproduction of the Face of Haverhill has been used on the cover of the new Haverhill Directory, launched this week.
The face was produced by morphing together images of 2000 Haverhill residents and was exhibited in the National Portrait Gallery in London. A total of 17,500 coipies of the directory have been printed, and will be distributed to every household in the town as well as to outlets such as tourist information offices and estate agents.
The new eye catching full colour cover was produced by Haverhill firm Printwise using new laminating equipment the company has recently bought.
Managing Director Terry McGerty, who is also a director of Haverhill Enterprise 200, said he was pleased to be associated with the booklet.
"The picture of the Face of 2000 really enhances is, we are delighted with the result. I think it is a credit to Haverhill," Mr McGerty said.
Alan Smith, chairman of the Leisure committee of
Haverhill Town Council
, which produced the booklet, said he was very grateful to Printwise for producing the laminated cover. It not only looked good, but protected the directory if anything was spilled in it.
"This is just one of the many things
Haverhill Town Council
does to make the quality of life for people living in Haverhill that much better. It is also a first point of contact for people moving into the town and we hope it will encourage them to use the facilities, Coun Smith said.
This is the fourth edition of the directory, which gives free listings information about shops, services, community facilities, clubs and societies. Copies are available from
Haverhill Library
or the Town Council offices and any enquires should be made to Nick Keeble on (01440) 706717.

Comment on this story
[board listing] [login] [register]
You must be logged in to post messages. (login now)