Fate of Project plan will be decided in Haverhill
Tuesday, 5th October 2010.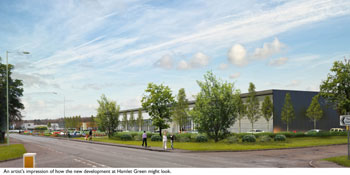 Planners will make a decision this month on the controversial application to redevelop the former Project site in Haverhill partly with shops.
The meeting to debate the proposal will be held in Haverhill, after a request to that effect from Haverhill councillor Anne Gower.
Cllr Gower, St Edmundsbury Borough Council's portfolio holder for Haverhill said she had asked that important decisions affecting the town should, if possible, be heard in the town so that local people get an opportunity to make representation to the committee.
St Edmundsbury's development control committee meets on October 21 at the Haverhill community football complex in Chalkstone Way, starting at 10am.
Cllr Gower said: "As this planning application has caused a lot of comment I would like to encourage people to register to speak and to come along and hear the committee discuss this proposition."
If anyone wishes to speak on this application the information you need is as follows:
The development control (planning) committee meetings are public meetings that anyone can attend. Those wishing to make representations will need to register the day before up to 5pm by telephoning democratic services - 01284 757107 or 01284 757176 or 01284 757118 mail to democratic.services@stedsbc.gov.uk
by fax, addressed to democratic services, to (01284) 757110 .
You can view committee agendas and see recommendations being made on applications that will be considered by the development control committee. Agenda papers will be on the council's website five days before the meeting.
HPG Developments from Cambridge have applied to redevelop the site in Ehringshausen Way to provide units for new businesses, but also a builders' merchant and four 'bulky goods' stores.
Wickes have already been revealed as the potential builders' merchant.
The site is only zoned for industrial use, so the retail proposal would be contrary to the council's policies.

Comment on this story
[board listing] [login] [register]
You must be logged in to post messages. (login now)