Field of over 100 for golf mixed open
Thursday, 23rd August 2012.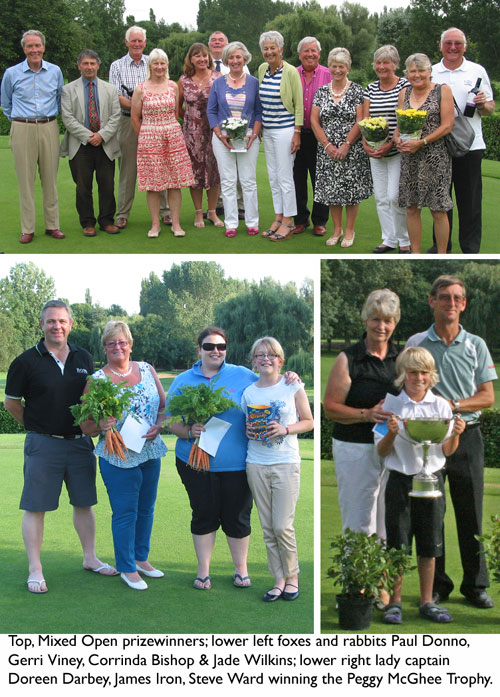 Haverhill Golf Club hosted the Mixed Open on Thursday, August 16, which was attended by 106 competitors representing 27 golf clubs, from across the East Region.
The weather and course conditions were perfect, producing some excellent scores. The prizes were as follows: Ladies nearest the pin on eighth Anne Roberts from Brampton Park; Men's nearest the pin on 16th Ivor Evans from Stowmarket.
The best front nine was won by Ray and Julie Miller from Brampton Park with a score of 24pts and the best back nine was won by Ron Thayre and Ruth Abel from The Essex with a score of 21pts.
The overall competition winners were Francis and Hilary Fitch from Bury St Edmunds with a score off 45pts. In second place were Dick and Fran Johnson from Ryston Park with 43pts on countback and in third place Peter and Sally Cade from Newton Green with 43pts.
Lady captain Doreen Darbey and retired cClub manager Doug Renyard gave the prize presentation and thanked all the volunteers from Haverhill including Stella Renyard, Syd Gould and Roger Campbell, who assisted with event organisation on the day and making it a great success.
Haverhill Ladies played their Stableford on Wednesday and Saturday, August 15 and 18. The overall winner with a superb score of 42pts was junior girls captain Alice Iron, eight points clear of her nearest rival.
As a result Alice has reduced her handicap by three shots to 22. Lyn Fish scored 34pts on countback, just edging out third place Eileen Kiddy with 34pts.
On Saturday, August 18, non-golfers were invited to take part in the Foxes & Rabbits competition, played over ten holes. The format comprised a golfer (fox) to play the shots to the green and a non-golfer (rabbit) to putt out.
The event has always been well supported, and this year 38 pairs took part. The overall winning team were Jade Wilkins 'fox'and Corrinda Bishop 'rabbit' with a combined score of 42.
The winning 'fox' was Paul Donno with a score of 15 and the winning 'rabbit' was Gerri Viney with 22 putts (on countback).
The Peggy McGhee Cup was contested on Sunday, August 19. The format was stableford, comprising teams of three, one lady and two men. The clear winners with 122pts were lady captain Doreen Darbey, club captain Steve Ward and Haverhill junior James Iron.
James stepped in at the last minute in place of Roger Campbell, who was unfortunately taken ill and the golf club would like to wish Roger a speedy recovery.
In second place were Michelle Pordage, Andrew Pordage and Dave Simpkin with 114 pts. In third place were Heather Eldred, Kevin Eldred and Spenny Tatum with 111 pts. Congratulations to Steve Rex who scored a hole-in-one during the event on the par three, 184-yard 12th hole using a five wood.
Haverhill's Tolly Team, led by captain Eamonn Bareham, celebrated their win against Brett Vale at Newton Green on Sunday, August 19.
Haverhill were five up at lunchtime and went onto consolidate their lead to finish nine up after the afternoon matches.
The results were (Haverhill team first): Andrew Gage and Matthew Farlie 3 up (am A/S) to Chris Waters and Martin Stevenson; Daniel Bentley and Graham Ashcroft 3 down (am 1 down) to Malcolm Norton and Mike Emmerson; James Higham and Andrew Craig 2 up (am 1 down) to Eric Fisher and Nick Leppard; Mark Barrett and Terry Lyons 7 up (am 5 up) to Joe Hanlon and Ian Maxfield.
The Brett Vale team put up a good fight and were very gracious in wishing Haverhill the very best for the final. Thanks to all the players, their caddies and supporters, together with Newton Green for hosting the event. Haverhill will now meet Thorpeness in the final at Felixstowe on Sunday, September 9.
Haverhill junior, Lewis Whiting, recently competed in the English Under-14 Open Amateur Championship for the Reid Trophy, held at Blackwell near Bromsgrove from August 7-9.
The three-day, 54-hole medal event attracted a field of 111 and it was the first experience for Lewis competing at international level, on a very tough par 70 parkland course.
Despite being slightly disappointed with his overall performance in the tournament, Lewis bounced straight back to shoot a nett level par round at Felixstowe in their Junior Open on August 15 and then went on to win the 36-hole Junior Open at John O'Gaunt over the following two days with an excellent final round of nett four under par to clinch the victory.

Comment on this story
[board listing] [login] [register]
You must be logged in to post messages. (login now)