Fielding challenge part of visit by top cricketers from the past
Thursday, 4th August 2011.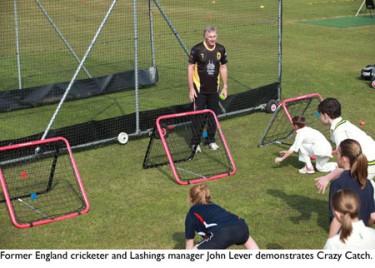 With English cricket in the ascendent a team of past international stars will be visiting Haverhill next week, and you can learn some tips about fielding from them.
Over the last 30 years, few cricketers have caught better in the slips than Richie Richardson and Graeme Hick, while Australian all-rounder Ian Harvey and New Zealandís Chris Harris were about as blinding in the outfield as you could get.
These and other former test stars are coming to Haverhill Cricket Club with Lashings World XI on Thurssday, August 11.
But while the match is on, you too can learn to field like the stars. Take the Crazy Catch one-minute challenge and sharpen your reactions, hand-eye co-ordination and vision, with the same rebound reaction trainer used by international cricket teams all over the world.
Essex swing bowling legend and Lashings manager John Lever believes Crazy Catch really helps develop good catching skills.
Lever who played with some great slip catchers for England and Essex, believes taking the ball with soft hands is the key to good slip catching.
Time and again the likes of Keith Fletcher, Mike Hendrick, Ian Botham, and the best he ever saw, Mark Waugh, picked up catches off Leverís bowling.
He remembers the time, though, when Botham actually dropped one. ďHe shrugged, apologised, but still wanted the next one to come to him, and never lost confidence that he would catch it,Ē he said.
ďWith Crazy Catch, the ball comes at you at different angles, so itís more like a game,Ē Lever adds.
ďThe more you practise the better you become and with Crazy Catch catching practice is fun and something you can do on your own. You donít need someone to hit the ball to you or stand the other side of the slip cradle. Itís just you, the ball and the Crazy Catch - you can spend as much time as you want.Ē
The Crazy Catch One-Minute Challenge at Haverhill Cricket Club is pretty straightforward. You get one minute to take as many catches as you can. But watch out, one side is double sprung so the ball could fly off at any angle. On the day, the best under 14 will get a trophy, and so too will the best over 14.
At the end of every Lashings game, each One-Minute Challenge winnerís name goes into a hat. At the end of the season, one winner will get a lunch trip to Lordís in the company of a Lashings player.
Thousands play Crazy Catch in schools, clubs and back gardens all over the UK. To find out more, visit www.flicx.co.uk or call Richard Beghin on 07900883630

Comment on this story
[board listing] [login] [register]
You must be logged in to post messages. (login now)