Fine turnout of golfers for commemorative seniors event
Tuesday, 18th May 2010.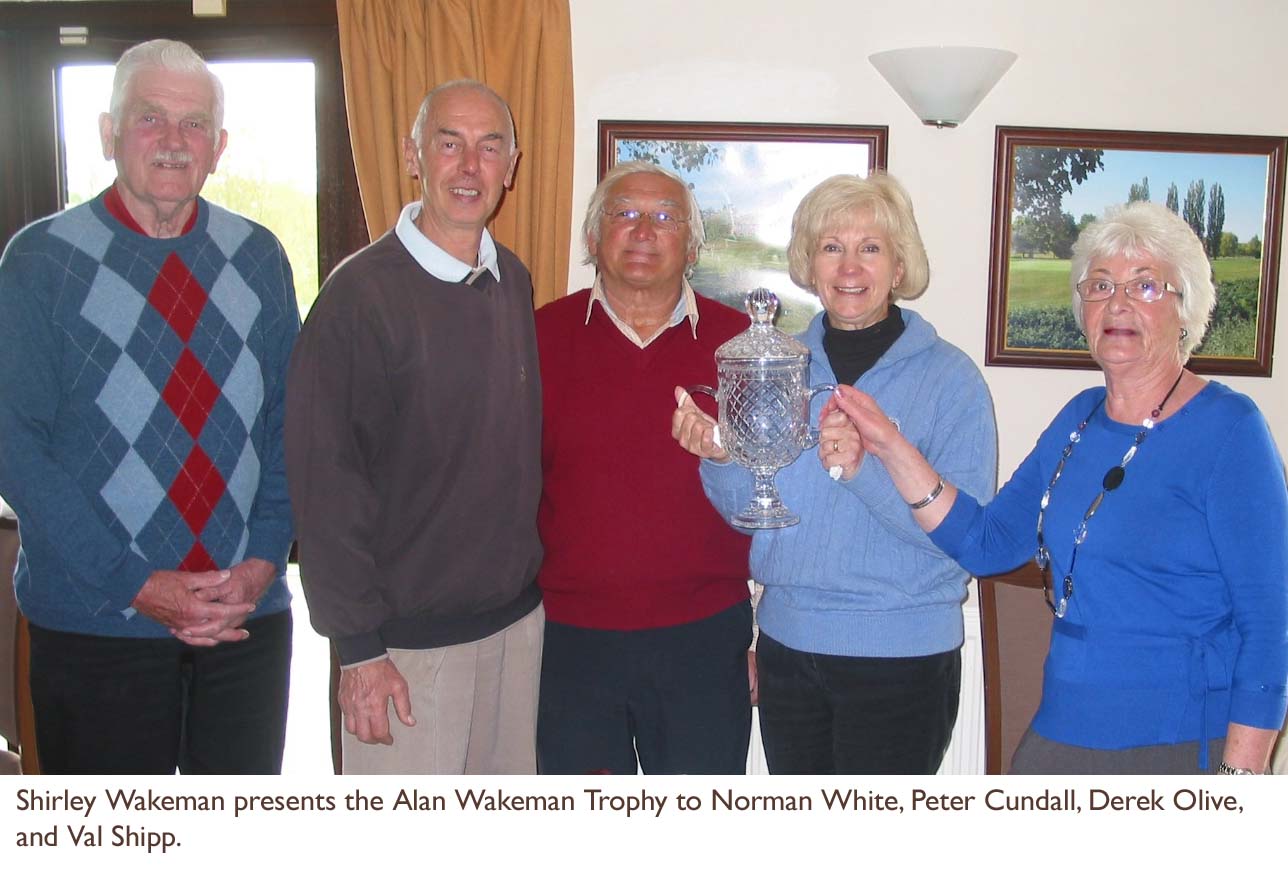 On Monday,May 10, the Alan Wakeman Friendship Trophy was played at Haverhill Golf Club to commemorate the life of the former senior captain at Haverhill Golf Club.
The event was well supported with over 60 senior golfers taking part. The winners were Derek Olive, Peter Cundall, Val Shipp and Norman White. Shirley Wakeman presented the trophy and she was thanked by the 2010 senior captain, Dick Sisman, for helping to organise the day and also for all the fundraising work she carries out for the golf club.
The men's midweek medal was played on May 12 and once again there were some great scores – which is testament to the excellent condition of the golf course.
Winning overall on countback was Andy Bareham, who shot a gross 70 to finish with a nett 66. Peter Mercer also had a great day, but just dipped out on countback, also with a nett 66 and he has had his handicap reduced by two shots to 22.
The full results were: Division One, 1 Andy Bareham 70-4-66; 2 Craig Sisson 74-5-69 on countback from 3 Tom Marsh 77-8-69.
Division Two, 1 Stuart King 80-13-67; 2 Tim Daniels 81-13-68; 3 Edward Fairhead 81-13-68. Division Three, 1 Peter Mercer 90-24-66; 2 Barry Shuter 90-22-68; 3 Ellis Woko 95-24-71.
The Haverhill seniors team travelled to Rookery Park for their first match of the new county seniors' tournament, the Beaumont Trophy, on Wednesday, May 12.
It was a very closely fought battle, but the hosts managed to win overall by three holes. The results were (Haverhill team first: Daryll Bates & Ivan Drury lost 6 down to Pat Barton & Billy Groves; Frank Robertson & Dave Nicholas lost 1 down to Brian Cook and Keith Thacker; Syd Gould & Geoff Bush won 3 up against John Smith & Fred Bush and finally Mike Barnham & John Ward won 1 up against Ron Rushmere & Bernie Allen.
Haverhill ladies played in their May Stablefords on Wednesday, May 12, and Saturday, May 15. There were very contrasting results on both days, but Sarah Field just managed to clinch first place on countback with 35pts from second place Lyn Fish also with 35pts. In third place was Pat Kennedy with 34pts.
The Linton Enterprise held its tenth anniversary golf day at Haverhill on Sunday, May 16. There was an amazing turnout of competitors, with 64 pairs taking part in the four ball betterball stableford event.
Winning the overall prize of £150 each, together with engraved crystal whiskey tumblers and a golf day at Woburn, were Steve Nichols and Paul Borowy with 45pts.
In second place on countback with 44pts were Tim Daniels and Andy Softley each winning £80. In third place also with 44pts were Keith Donno and Peter Garner, winning £50 each and in fourth place were Charlie Hudson and Robert Rudge, winning £30 each with 41pts.
Brian Jones and Simon Price won the prize for best front nine with 23pts and Paul Donno and Andrew Howard won the prize for the best back nine with 21pts.
Nearest the pin on the 8th was Peter Garner and on the 12th was Haverhill junior, Lewis Whiting. The day raised funds totalling £1,692, which will be used for the golf club and for further development of the golf course.
Organiser Terry Bishop thanked everyone who took part and contributed and he also thanked the Linton Enterprise sponsors for their valued support.

Comment on this story
[board listing] [login] [register]
You must be logged in to post messages. (login now)