Fire Crews Clean Up At Car Wash
Thursday, 1st June 2006.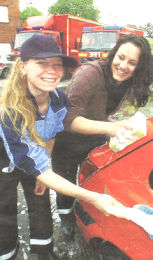 Firefighters were busy splashing water about at the weekend - but instead if putting out fires they were cleaning cars to raise money for children in an orphanage.
Haverhill firefigher Dale Nunn is part of a Prince's Trust European Team Challenge Programme, leading 10 unemployed young people through a three-month college course to try and help them find work. As part of the course, they will visit a Bulgarian orphanage next month to help renovate it.
Dale said the youngsters were already gaining confidence through the course and each had to organise their own fund-raising event to pay for materials for the trip to Bulgaria. He had decided to organise the car wash to raise money for some extra money for the children at the orphanage.
"The course has been very interesting and we've seen a film about the orphanage and I think it is going to be quite hard going there," Dale said.
"The volunteers have to raise £600 each, but thought it would be nice to do some fund-raising at the fire station so we have some extra cash to take them."
Anyone wishing to contribute can leave donations at Haverhill fire Station.

Comment on this story
[board listing] [login] [register]
You must be logged in to post messages. (login now)