First marking session in battle against the CAT thieves
Monday, 21st February 2011.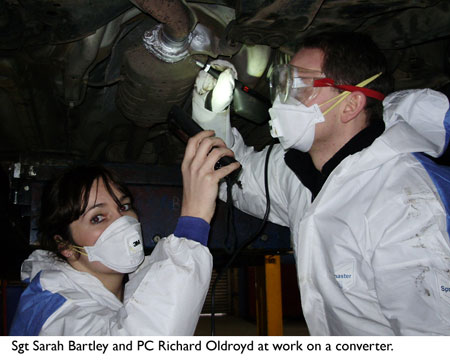 The first of Suffolk police's catalytic converter marking sessions took place in Haverhill today and had a steady flow of vehicles brought in by businesses and individuals.
The police's Safer Neighbourhood Team were at Mitchells Motors in Hollands Road from 10am to 4pm and by mid-afternoon had marked 15 vehicles.
Sgt Sarah Bartley said six of them had been business vehicles, including vans, and there had also been some vehicles from the villages around Haverhill.
The police will be at Mitchells again on Sunday from 10am to 4pm, in the hope of getting more vehicles at the free marking sessions, which take a matter of a minute or two to complete.
Sgt Bartley said they were not only marking the converters, but also 'doing something to them to make them more difficult to steal', although police are not letting on what that is.
Drivers are issued with a card to place in the windows of their vehicles letting potential thieves know the converter has been marked.
"Mitchells Motors have been very helpful and accommodating," she said. "We are not vehicle experts and we have had to ask them the odd question or two.
"The process takes a matter of a minute or so, but what can take a bit longer is us finding the catalytic converter!"
Officers from Safer Neighbourhood Teams across west Suffolk have been trained to mark catalytic converters by engraving or stamping them and marking with heat-resistant paint.
Det Insp Andy Footer said: "Since December catalytic converters have been targeted all over the county, but predominantly in West Suffolk, with 52 stolen.
"It can take just minutes for a thief to remove the catalytic converter from your vehicle – but now it can take even less time to get yours marked.
"I would like to thank the garages for providing space for the marking sessions. Any 4x4 or van driver will be able to visit these garages during the sessions and have their catalytic converter marked by the Safer Neighbourhood Teams for free.
"I would particularly encourage drivers of vehicles such as Ford Rangers and Mercedes Sprinter vans, as an example, to come along, as these are the vehicles most targeted. A letter has been sent to registered owners of vehicles we believe to be at risk in West Suffolk."

Comment on this story
[board listing] [login] [register]
You must be logged in to post messages. (login now)