First town triathlon proves another big success
Thursday, 9th October 2014.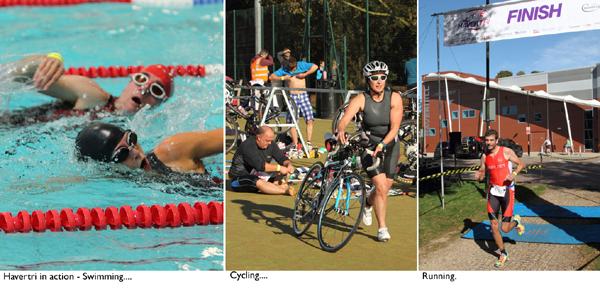 Almost 200 athletes competed in Haverhill's first triathlon on Sunday.
HaverTri – the Haverhill Research Park Triathlon - saw the town host the sport for the first time to raise money for Haverhill Scouts and Guides' new building fund.
In total of 178 people completed the course, which began with a swim at Haverhill
Leisure Centre
before three different distances with cycle routes going through the Essex villages and a run along the old railway line through
East Town Park
and Sturmer.
Fourteen-year-old Ollie Trent won the Super Sprint, with 13-year-old Sorcha Barnes the first female to cross the line in that distance which West Suffolk MP Matthew Hancock also completed to do his first triathlon.
Pip Moore won the Sprint distance with Charlotte Smith the first woman, while in the longest distance – Sprint+ – Paul Ruffy crossed the line first with Rachel Barnes the first woman.
In addition to being sponsored by the Haverhill Research Park, Stylize Display Graphics, Tesco Haverhill,
Haverhill Town Council
and Suffolk county councillors Anne Gower, Tony Brown and Julian Flood all sponsored the event.
Students from Castle Manor Academy were among the volunteers who ensured everything ran smoothly and the event was broadcast live on Ignite Radio.
Further support came from Aerocycles, Eastern Facilities Management Solutions, OS Communications, Iceni Water and KP Landscaping.
Race director Jack Tappin said: "HaverTri was a great event and it was brilliant to see so many people sharing my passion for bringing premier athletics events to Haverhill.
"I hope HaverTri will return in 2015 with an improved experience for all involved, though the next challenge begins with the confirmed return of Haver10 and HaverHalf next year.
"I'd like to thank our sponsors, all those who volunteered to make this event possible, and all the people who turned out to compete and realise triathlon in Haverhill."
Skills minister Mr Hancock, who had also successfully completed HaverHalf on May 11, said after the race: "Haverhill's sporting exploits are going from strength to strength.
"HaverTri is a testament to the community support in Haverhill and to Jack Tappin in particular that we have another excellent sporting event.
"I'm pretty exhausted after finishing but it was great fun and brilliantly organised.
"My sister does triathlon and I had wondered what it was all about though now I'm feeling like I might try it again.
"The amount of people who had given up their time to help organise and execute HaverTri is a tribute to the town."
Town mayor, Cllr Roger André, presented trophies to the winners as they finished the races.
"Jack Tappin has organised another excellent event for Haverhill and the volunteers and students from Castle Manor have helped to make this event possible," he said.
Duncan Batty, group Scout leader at 1st Haverhill Scouts, said: "It is fantastic that HaverTri is donating the proceeds from their inaugural triathlon to the Haverhill Scouts and Guides new building fund.
"There was a clear link between what the competitors, many of whom had not entered a triathlon before, wanted from the event and what modern Scouting stands for – fun and adventure.
"As a community event, it was really pleasing to see so many people from Haverhill supporting the event."
You can stay updated with the future of Haverhill's athletic events by following @HaverhillTri and @haverhalf on Twitter, liking 'HaverHalf and Haver10' on Facebook, or e-mailing haverhalf@gmail.com

Comment on this story
[board listing] [login] [register]
You must be logged in to post messages. (login now)