Fitness trainer faces his personal D-Day for charity
Thursday, 24th May 2012.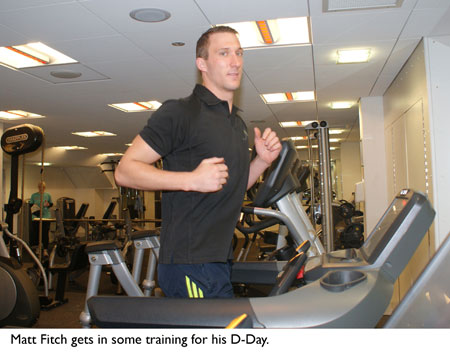 A personal trainer from Haverhill
Leisure Centre
will undergo a gruelling 44-mile run to commemorate D-Day and raise vital funds for British soldiers who have lost limbs fighting for their country.
Matt Fitch, a former private in the Parachute Regiment and the current ISKA British thai boxing champion, will take part in the D-Day 44 Run on June 6 to commemorate the 1944 allied invasion of occupied France.
Matt, 26, will take part alongside friend and fellow
Leisure Centre
gym member Ed Campbell, a Royal Navy Lieutenant for the Fleet Air Arm, and together they hope to raise £2,000 for the British Limbless Ex-Servicemenís Association.
This is the first time they have taken part in the run and Matt has been doing increased hill run training and core strength conditioning in the gym to prepare.
The 44 miles cover the Normandy coastline taking participants over sand dunes and through marsh land as well as pebble beaches.
They will follow forgotten paths and rocky outcrops and go through beautiful Normandy villages.
These are all set alive during this first week of June with people from all over the world driving WWII vehicles and even wearing old WWII uniforms, including hundreds of war veterans, some of whom lived through D-Day and proudly wear their medals and tell their amazing stories.
Matt said: ďIím really looking forward to seeing Normandy and experiencing the history of D-Day right where it all happened and all while raising money for the troops fighting now who have experienced catastrophic injuries while fighting for their country.
ďBut I am dreading running on the sand and waking up the day after the run! Itís a huge challenge but we desperately want to raise a large sum of money.Ē

Comment on this story
[board listing] [login] [register]
You must be logged in to post messages. (login now)