Focusing on the Future of Haverhill
Friday, 9th June 2006.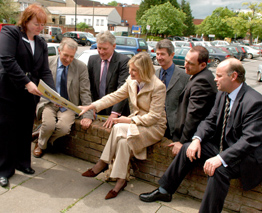 St Edmundsbury's Cabinet turned the spotlight on Haverhill on Wednesday 25th May when they toured the town to take a closer look at key sites which will play a vital role in the Haverhill Masterplan.
Council Leader John Griffiths and Portfolio Holders took a trip around the town centre before holding a Cabinet meeting at Samuel Ward Arts and Technology College. Included in the tour was the Gurteens site in the heart of Haverhill, due to be redeveloped as part of the town centre regeneration plans, and the land which is currently being turned into the 110-space Cleales car park.
The group also visited Jubilee Walk – an important gateway into the town which will undergo a facelift after an extensive public consultation, launched earlier this week, is complete.
The tour comes after the borough council announced £10 million will be pumped into the town centre over the next ten years to bring the masterplan – designed to regenerate Haverhill while encouraging new investment – to life. It also follows the news that Nick Martin, who spent his early career attracting fresh industry to Haverhill, is to return to spearhead a new town centre management scheme.
Cllr John Griffiths, Council Leader, said:
"Touring Haverhill provided Cabinet members with the perfect chance to gain an even better understanding of the town as well as the opportunities and challenges which lie ahead. Haverhill has a bright future and there is much enthusiasm and support within the community for the masterplan, the implementation of which will be both exciting and a resounding success for a great town."
St Edmundsbury Borough Council

Comment on this story
[board listing] [login] [register]
You must be logged in to post messages. (login now)