Football school in appeal for students
Thursday, 23rd May 2002.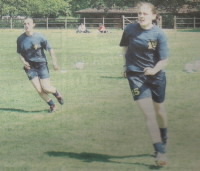 After a successful first year for West Suffolk College's Girls Football School, trials are now being held to select next year's intake.
"This year, the girls have reached the national British Colleges for Sport five-a-side finals in Swansea, and the finals of the National British Colleges Sport Centres for Football Excellence Cup," said football school manager Jonathon Warnock.
"They beat Filton College 3 – 1 in extra time in the semi-final at Bristol, but were defeated by Durham, a well-established side managed by former England player Gillian Coulthard, in the final.
"It was a tremendous achievement for our team to have got that far."
Trials for the Girls Football School will take place at 5 pm on Wednesday June 5 at Portman Road, Ipswich.
Girls who are successful in gaining a place will then be able to select an appropriate academic course, which they will pursue alongside their football training.
Ipswich Town women's football coach, Sean Thacker, is also chief coach at West Suffolk College Girls Football School.
The club is committed to developing women's football at the grass roots.
One West Suffolk College player, Emma Gregory, has progressed from Ipswich Town reserves to play with the women's first team in just one year.
Although she was not one of the strongest players when she joined the school, she has put a lot of effort into her training and been promoted to the first team on merit
For more information about the trials, of an application form, contact Jonathon Warnock on 01284 733184. Sean Thacker, Girls Football School coach on 07931 510366 (mobile) or Gayle Wade, West Suffolk College press officer 01284 716383.
CAPTION: Training hard … students from the Girls Football School in training on Hardwick Heath.

Comment on this story
[board listing] [login] [register]
You must be logged in to post messages. (login now)