Former Haverhill Sports Star Leads Championship
Monday, 28th July 2008.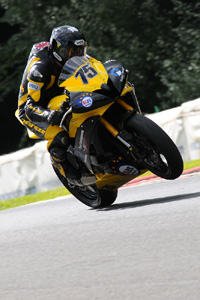 Racing champion Craig Fitzpatrick, formerly of Haverhill, made a welcome return to winning ways at round 7 of the British Supersport Cup at Oulton Park on Sunday 20th July.
A lack of grip left him wrestling his BLDS Yamaha round the Cheshire circuit, which meant he could only manage 13th in the overall results, but he still dominated the Cup event. The return to his early season form has now seen him take a commanding lead in the Championship standings.
The now customary bad weather tested the riders from the first practice session on Friday. A downpour prior to the start of the session left the track damp but drying, making it difficult to make any significant progress on setting up their bikes. Fitzpatrick made steady progress, posting the tenth fastest time and the fastest in the Cup.
In the dry session later on Friday, Fitzpatrick started to find the form which he had showed here earlier in the season. Steadily improving his times he ended up 6th fastest overall and again topping the Cup times.
Another downpour on Saturday morning, turned the first qualifying session into something of a lottery. As the rain fell, on and off, throughout the session, being on the right tire at the right time was crucial. Fitzpatrick could only manage 16th fastest, but as the weather improve during the day, the morning times proved to be worthless.
A steady second session ended with Fitzpatrick 12th fastest overall, again heading the Cup entrants. After posting a time only one second off pole position, Fitzpatrick was slightly disappointed to only make the third row. With the times being so close it meant he would have a great chance of battling it out at the sharp end in the race.
Fitzpatrick made a great start to Sunday's race, making up four places in the first couple of turns. However, another damp warm-up session had put pay to testing some new settings on the bike, and Fitzpatrick soon found himself struggling for grip. Realising that he could not maintain the pace of the riders ahead of him, he set out to keep those behind at bay. As the race drew on, Fitzpatrick had to settle for consolidating his lead in the Cup race and stay out of trouble, eventually coming home 13th overall and taking his fifth Cup win out of seven.
Fitzpatrick now takes a 20 point lead in the Cup standings north of the border, to Knockhill, in three weeks time.

Comment on this story
[board listing] [login] [register]
You must be logged in to post messages. (login now)