Former Rover turns business sponsor for club
Monday, 2nd August 2010.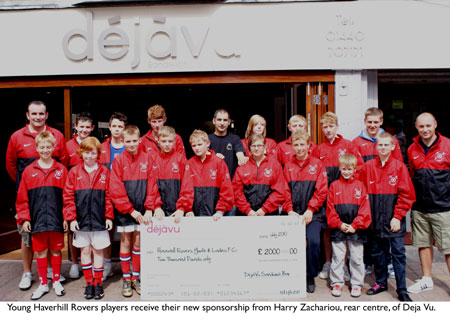 Déjà Vu coffee shop in Queen Street is to back Haverhill Rovers Football Club youth teams in a record-breaking sponsorship deal for the club.
Harry Zachariou, who played left midfield for Haverhill Rovers FC for three years in his teens, presented the junior team with a cheque for £2,000.
The sponsorship will be used to help youngsters take part in games and to fund sports kit.
Harry, who also runs Bar Vu in Jubilee Walk, said: "I played for Haverhill Rovers from the age of 19 until I was 21 and I am so pleased to be helping the junior team with their next two seasons.
"Youngsters in Haverhill should be encouraged to continue sports that they enjoy as I did in my teens. It helps not only with their fitness but with confidence and team-building skills, and it's a great way to meet friends and fill your time with a constructive activity that has discipline.
"I'm also pleased to give something back to the community as a lot of these children and their parents use Déjà Vu at lunchtimes and weekends."
Brad Rice, former chairman of Haverhill Rovers Youth FC and now chairman of the fund raising committee, said: "We are extremely grateful to Harry and Déjà Vu for sponsoring the youth teams for three seasons.
"It must be a record-breaking deal for the local area and we are very pleased to work with Déjà Vu for the foreseeable future.
"The sponsorship will give an enormous boost to the youngsters and the money will go towards various causes, most notably purchasing sports kit for our teams and helping to reduce the financial barriers some families face, so that no children in the local community miss out on playing football.
"It is with the support of businesses and organisations in Haverhill such as Déjà Vu that we are able to continue to run the youth teams and provide a thriving football club now and as we build on our exciting future."

Comment on this story
[board listing] [login] [register]
You must be logged in to post messages. (login now)