Forum's big day opens up information to older people
Thursday, 15th April 2010.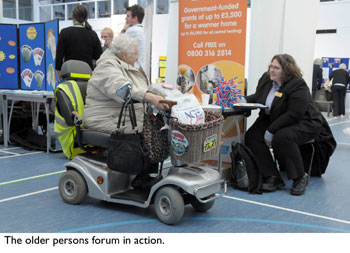 A total of 28 agencies offering help and support for older people gathered at a special information day at Haverhill
Leisure Centre
today.
The day was organised by Haverhill Older Persons Forum, and was aimed to tell people about what was available to them.
Forum member Alex Keep from Haverhill Red Cross described it as a very positive day.
"We have been able to network with a lot of other agencies in a similar field to ourselves," he said.
"For a first event I think it has been successful. We have had a constant trickle of people coming through.
"We had identified a need in Haverhill which was not beiong met by any one single agency and it was difficult for people to access help and support."
The enabling officer for the forum was Peter Shakespeare from Suffolk County Council, who said they had probably had over 100 people, which was 'pretty good' for a first event.
"We will definitely be doing another one," he said, "We have learnt a lot from this one.
"Accessing services is often a bit of a minefield for people, so we wanted to let people know about the wide range of services there are, and break down the barriers."
Organisations attending were: Home Shield, Assistive Technology, Community Meals Service, Age Concer, Red Cros, British Legio, Falls Prevention, Information on Prescriptio, Warm Fron, Suffolk Family Carer, Alzheimer's Society, Orbit Eas, Infolink, Community Learning & Skills Development, FACT- Suffolk Family Carer, AC, SNA, Mental Health & Well Being Services,
Haverhill Library
, West Suffolk Blind Associatio, Havebury Housin, Haverhill Food Ban, Hatty Maisey, St Edmunsbury BC, Haverhill Volunteer Burea, Haverhill Pensioners Associatio, SILS and Keep Active.

Comment on this story
[board listing] [login] [register]
You must be logged in to post messages. (login now)