Foster carers rewarded for their dedication
Monday, 23rd May 2011.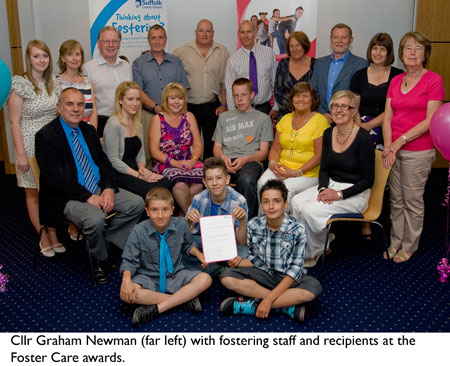 A Haverhill couple were among proud foster carers from all walks of life who gathered yesterday to receive awards for their incredible dedication to supporting and protecting some of the most vulnerable children in Suffolk.
Hosted at Ipswich Town Football Club, the event saw foster children, current carers, birth children and care leavers celebrate the many successful relationships they have developed through the Suffolk Fostering Service at this year's long service awards.
Collectively, the carers have more than 100 years' experience of fostering children from across the county.
Among them were Jackie and Adrian Hart, from Haverhill, who were marking five years of service.
As Foster Care Fortnight 2011 reaches its halfway point, the fostering team at Suffolk County Council has already received over 100 calls from people who feel ready to take the next step in finding out more about fostering in the region.
Cllr Graham Newman, Suffolk County Council's portfolio holder for children, schools and young people's services and Sue Lowndes, the county's head of fostering, presented the awards.
Cllr Newman said: "This year's long service awards provide an opportunity to celebrate the success of foster families across the county and inspire local people to consider fostering as a serious option for them.
"It was fantastic to listen to the many heart-warming, encouraging and inspiring stories from carers and children who have benefited from the fostering service for many years.
"I hope their success will encourage others to get in touch and find out how they too can improve the life of a Suffolk child."
The council is encouraging anyone thinking about fostering to call and speak to someone in the fostering team to get more information on 0800 328 2148 or visit www.suffolkfostering.com.
Suffolk's Fostering Service will also be having a number of information stands around the County during Foster Care Fortnight which runs until Sunday. If you would like to visit one of these, see the council's website for further information.

Comment on this story
[board listing] [login] [register]
You must be logged in to post messages. (login now)