Fred is presented with his MBE
Thursday, 24th May 2001.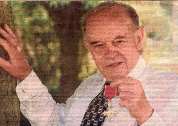 A MAN from the Haverhill area rubbed shoulders with royalty when he was made an MBE by HRH Prince Charles.
Frederick Phillips, 82, from Kedington, received the award at a Buckingham Palace ceremony on Friday morning.
He was given the award in the Queen's New Year Honours List for services to the community in Kedington.
Mr Phillips said: "I was very proud to receive the award. It is something I never expected."
He added: "Prince Charles was very nice. He asked me about my involvement with the British Legion and with the church and if I was still church warden.
"It was nice that he'd taken the time to read a little about each of us."
Mr Phillips was one of 140 people honoured in the investiture held in the Palace Ballroom.
The ceremony was accompanied by the music of the Grenadier Guards Orchestra.
He was originally nominated back in November, 2000, by a number of organisations, including the Royal British Legion and the parish church, for the years of service that he had given them.
The news that he was to receive the MBE reached him on the Friday before New Year, December 29.
He attended the ceremony with his two daughters, Rose Jobson and Ruth Pairpoint, and his son-in-law, Les Jobson.
All three also live in Kedington.
Mr Phillips, who also has four grandchildren and eight great-grandchildren, said: "I have not given up any of my community work, or my garden, yet and, while my health will allow me, I will continue.
"I do get a bit of arthritis in my knee but that hasn't stopped me yet."
Mr Phillips has lived all his life in Kedington, with the exception of six-and-a-half years in the army.
He saw action during the Second World War with the Royal Army Service Corps 224 Coy.
His community work has included 55 years of work with the Royal British Legion, a lifetime of service to the parish church, serving as a parish councillor for eight years and work as a local press reporter for 55 years.
CAPTION: Honoured ... Fred Phillips was presented with his award by Prince Charles.

Comment on this story
[board listing] [login] [register]
You must be logged in to post messages. (login now)