Fun for all at Show
Thursday, 28th June 2001.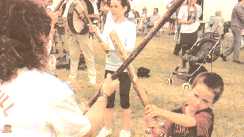 HAVERHILL Show's new venue at the town's Recreation Ground on Sunday makes it accessible to far more people this year.
Chris Hammond, chairman of the Show Society, said there had already been a huge amount of interest from people who had not previously attended.
"We are hoping for a much larger attendance figures than usual, although we can't charge admission to the recreation ground, but we'll be doing collections to offset this.
We're certainly going to use the whole of the ground and it's going to be a really big event."
Organisers have the usual packed programme of events on offer - including many new attractions - and are hoping the public will give generously to LAMPH to make up for lost admission fees.
A new addition this year will be a service organised by the Methodist Church to open the show at 1l am.
Arena attractions will include displays by the Tang Soo Do martial arts team, known for breaking tiles with their heads, and Adrenalise-Kite, whose display includes six kites which lift a man into the air.
There will also be a power lifting display, Sapphire Majorettes, heavy horses from Rede Hall, a display of classic cars, line dancing from Double R and live music from Glambusters, Alternative Commitments and Oblivion.
Also new this year is a display of birds of prey towards the end of the afternoon. The dog show, always a popular event, is back in its not totally serious form - lots of classes for the scruffiest dog and the one with waggiest tail.
National tug-of-war competition heats will he held, as well as a flower show, craft show, Have a Go Driving, a fun fair and bouncy castle and a giant car boot sale.

Comment on this story
[board listing] [login] [register]
You must be logged in to post messages. (login now)