Genzyme Employees in Race for Life Challenge
Friday, 4th July 2008.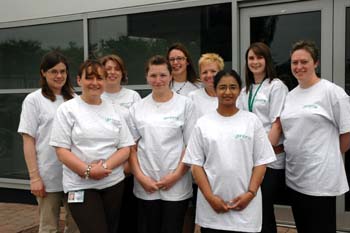 Employees at Genzyme's Haverhill Operation are once again raising money for cancer charities by entering Cancer Research UK's, Race for Life. Many of the female volunteers joined the 4,000 women who took part in the 1st June races in Cambridge, which covered 5km across Jesus Green, Midsummer Common, the banks of the Cam and back to Jesus Green. Staff will also be taking part at the races to be held in Cambridge on 6th July.
Most of the Genzyme team taking part in the race have been touched by cancer and know either a loved one or colleague who has been affected in some way. Very poignantly, three of the team lost their mothers to cancer.
The runners described the race as a heart-warming experience with a massive sense of achievement.
To date, staff at Genzyme have raised almost £1500 this year, with sponsorship money still to come in for those racing at the 6th July event.
The UK's biggest women's only event to raise money for Cancer Research, Cancer Research UK's Race for Life began in 1994, with one race raising £36,000. Last year Race for Life achieved a figure of £40 million. The aim for 2008 is to get over 750,000 women racing and raise over £50 million to help beat cancer. Every pound raised in sponsorship goes towards furthering ground-breaking research work by scientists, doctors and nurses who work tirelessly to find new treatments for the disease.
Vice President and General Manager of Genzyme Haverhill Operations, Simon Cousins said "We have a fantastic group of committed and enthusiastic staff at Genzyme. This is yet another example of how those who work here are prepared to give up their time to help make a difference to the lives of others."

Comment on this story
[board listing] [login] [register]
You must be logged in to post messages. (login now)