Genzyme Employees Raising Funds for St Nicholas Hospice
Wednesday, 12th September 2007.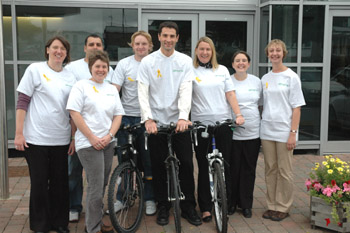 Employees at Genzyme's Haverhill operation are currently putting all their energies into a month long programme of activities designed to raise funds in excess of £4,000 for St Nicholas' Hospice at Bury St Edmunds. What's more, if they achieve their goal, the final sum will be doubled through match funding by Genzyme.
Volunteers will need to raise over £4,000, have 50 people take part, and volunteer over 100 hours for the Hospice to qualify for the extra grant.
The endeavour is part of Genzyme's global volunteer programme – Genzyme Invests in Volunteer Efforts (G.I.V.E). Since 2000, Genzyme has encouraged its employees around the globe to unite for an annual volunteer initiative. These projects aim to inspire employees across Genzyme to raise local awareness around a broad social issue and form sustainable initiatives that benefit their local communities.
Last year staff at Genzyme in Haverhill played an integral role in helping to secure a $10,000 grant for the International Federation of Red Cross/Red Crescent under the programme. This achievement of employees across Europe represented the first time such a grant was awarded in Genzyme's 25 years history.
This year, as part of Genzyme's local celebration of 25 years in Haverhill, employees have taken up the challenge once again. It is anticipated some 150 volunteers, over half the workforce of the Genzyme Haverhill site, will be actively involved in the September campaign.
Fizzing with ideas, Genzyme's Community Relations Team at Haverhill have organised a host of fundraising events with the emphasis on fun and innovation. Activities will include a weeklong series of competitions at the site restaurant, including Nintendo Wii and connect4 contests, a charity auction and race night, sponsored bike riding, running and a football tournament.
In addition, a number of staff have volunteered over 100 hours of their free time to St Nicholas Hospice. This time will be used to make a positive difference and brighten up the lives of patients, families, carers and visitors through painting and decorating the inside of the Hospice.
Barbara Gale, CEO at St Nicholas Hospice said: "We are always delighted to hear of people wanting to raise funds for us here at St Nicholas Hospice. But to then learn that, not only is a local company motivated to raise £4,000 and give us 100 volunteer hours all in one month, the parent company is in effect match funding the sum raised.
"Without the support of volunteers St Nicholas hospice would not be able to run. The benefits and blessings of an extra 100 hours volunteer time are incalculable.
"We rarely see fundraising and volunteering coming together in such a symbiotic way. It is always a pleasure to welcome help from local companies in whatever form that may come and we look forward to welcoming the workers of Genzyme to the Hospice. Their help will be invaluable."

Comment on this story
[board listing] [login] [register]
You must be logged in to post messages. (login now)