Genzyme Haverhill Operations Raises Funds for Hospice
Monday, 22nd June 2009.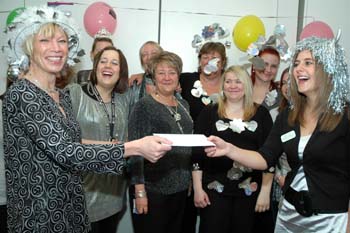 Staff at Genzyme Haverhill Operations recently held a wear it silver day at the site to raise funds for the company's chosen charity St Nicholas Hospice Care. Employees were encouraged to wear silver to work and take part in various fundraising activities. 2009 marks the 25th birthday of St Nicholas Hospice Care and it was this silver anniversary that inspired the theme for the event. To ensure that everyone got into the spirit of the day, there was a prize for the most creative outfit.
Genzyme's Community Relations Team at Haverhill has organised a series of fundraising activities and events throughout 2009 to support the Hospice. These will include competitions, sponsored bike riding, running and a football tournament. In addition, many staff have volunteered to spend a weekend at the Hospice undertaking valuable maintenance work and contributing their time where needed.
St Nicholas' Hospice Corporate Fund Raiser, Abby Hunt said: "Since November 2007 Genzyme's employees in Haverhill have raised an incredible £15,000 for St Nicholas Hospice Care through various fundraising activities. This is a tremendous amount of money which has been making a real difference to the community. The reason I think Genzyme is so special, is not because of the money, but because whatever the task Genzyme staff all genuinely seem to be enjoying themselves. When employees visited the Hospice last year to volunteer, it was clear that everyone wanted to be there. Their teamwork and enthusiasm is why they are so successful and this was again very evident in their recent 'Silver Day'. We thank everyone at Genzyme for their consistent efforts towards the work of St Nicholas Hospice Care. I am especially pleased that they will be undertaking another weekend of volunteering. Genzyme are truly helping to make our 25th birthday year one to remember."
Photograph shows St Nicholas' Hospice Corporate Fund Raiser, Abby Hunt with Competition winners at Genzyme

Comment on this story
[board listing] [login] [register]
You must be logged in to post messages. (login now)